Woman accused of husband's death links outlawed gang to the killing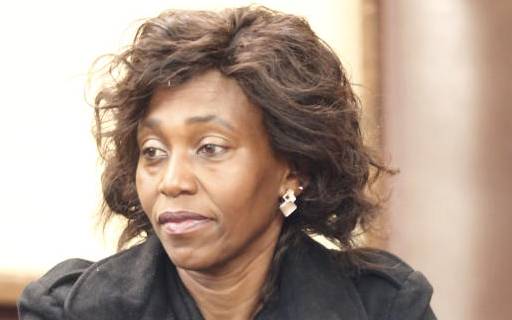 A former high school principal accused of killing her husband told a Nakuru court that a shadowy group of school heads was behind the murder.
Jane Muthoni (pictured), who was testifying in her own defence on Tuesday, told Justice Joel Ngugi that she was not involved in the planning or execution of Kiru Boys High School Principal Solomon Mwangi.
Mwangi went missing on November 6, 2016, before his badly mutilated and decomposing body was found a few days later in a coffee plantation in Juja, Kiambu County.
In November last year, the court found that Muthoni and her co-accused, Isaac Ng'ang'a, had a case to answer. Two other people, Nelson Njiru and Joseph Njuguna, were also alleged to have participated in the killing.
Njiru is still at large while Kariuki is currently serving a seven-year jail term after he pleaded guilty to the lesser charge of manslaughter after entering into a plea bargain with the State.
But Muthoni, who said she has lined up 10 witnesses, gave a sworn statement saying her marriage to Mwangi was "stable and founded on formidable principles of mutual love, care, trust, and understanding".
The prosecution has stated that Muthoni killed Mwangi because she suspected he was unfaithful. The accused, however, said her husband had never had an extra-marital affair or brought another woman into their matrimonial home.
The former principal of Icaciri Girls Secondary School told the court that prior to her husband's murder, he had received threats to his life that were reported to the police, who provided security.
Threats reported
"There were many threats between 2014 to 2016 which we reported at Kiriaini Police Station. Each time the threats were reported, measures were taken," said Muthoni.
She said they had both been seeking transfers since 2001 from schools in Laikipia and Murang'a, which was the beginning of their troubles.
"In 2013, my husband's colleagues introduced him to a cartel that dealt with transfers. This cartel claimed to have power and influence as it worked closely with the Teachers Service Commission and the Education ministry to dictate who would go to which school."
Muthoni said they were so desperate that they sought the cartel's assistance, but they were unable to raise the Sh1 million that the group demanded.
They did not give up, she told Justice Ngugi, and continued using the official channels to move to other schools. The accused said their efforts paid off when in January 2014 they were appointed to head Icaciri and Kiru secondary schools.
The cartel, she said, was frustrated that they had succeeded without their assistance and began issuing threats. "They used to call my husband and warn him that they would ensure we lost our positions, which would be given to their friends."
The accused also claimed that people calling themselves Mungiki terrorised them and threatened to kill Mwangi on the orders of the cartel.
Muthoni said the cartel went as far as to incite parents and students against her husband, which led to several incidents of unrest at his school.
She revealed that they had once escaped an abduction attempt on their way to Kiru.
The accused also told the court that a motor vehicle dealer called Samuel Karanja, whom they had asked to help them import a car, was also involved in Mwangi's murder.
She said despite giving Karanja Sh1.5 million, he never delivered the vehicle. Instead, she added, he used to threaten her husband.
Muthoni also claimed that the dealer was in Ruiru on the dates her husband was killed.