Natembeya linked to 10,000 acres in Mau by witness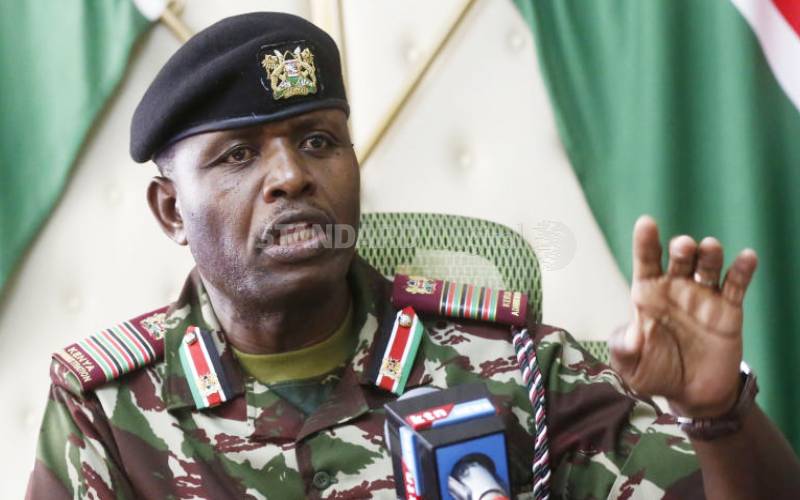 Rift Valley Regional Commissioner George Natembeya (pictured) is a beneficiary of Mau Forest land, a court has been told.
Johnson Taalam, testifying at the start of a case where more than 500 people evicted from Mau are challenging the government action, said a Ms Lilian Khaemba, who he alleged is Natembeya's wife, owns 10,605 acres in the water tower.
Mr Taalam, 77, told the three-judge bench of Sila Munyao, Mohammad Kullow and Ongondo George, that Natembeya confessed to him he owned the parcel in Enkarooni.
"If you find the Green Card to the land, you will find parcel number 10605 with the name Lilian Khaemba," Taalam said.
A green card is a document that holds original records of all transactions relating to a piece of land and that serves as a reference document. Information on the title deed must tally with that on the card without which one cannot claim to be the owner of a property even if they have a title deed.
Illegal settlers
The State has been evicting illegal settlers to pave the way for restoration and conservation of the Mau. More than 10,000 settlers were evicted last year.
Taalam, chairman of the 120-member Enkarooni Group Ranch, said land under Khaemba's name was initially owned by one Joseph ole Mapelo.
He claimed Natembeya at one point requested him to help him take care of the land.
Taalam, who was being taken through his testimony by lawyer Kimutai Bosek, said the government contravened the law when evicting them from the land he claimed they acquired legally.
He told the court government officials were involved in the sub-division of the contentious parcel of land.
Natembeya was among government officials involved in land adjudication when he served as a District Officer in Mulot Division, Narok County, at the time, the witness told court.
Taalam said their eviction was illegal also because no notice was served to them.
"We expected the government to meet us so we can discuss the way forward. However, this did not happen. They later evicted us," he said.
Taalam added: "The Government issued us with title deeds to our land, built schools and also planted trees."
He said the settlers were forced to leave after the Government deployed armed security officers "ostensibly to instill fear in us".
Taalam claimed that in 2006 President Uhuru Kenyatta, then the deputy prime minister, led them into a meeting with then president Mwai Kibaki, following their eviction.
"We discussed our impending eviction when Mr Kibaki declared our title deeds as genuine," Taalam said.
He said: "Since President Kenyatta is aware of these issues, he should speak out. He should be our witness in this case."
The witness pleaded with the court to order that the land be reverted to them. He says they should also be compensated.
Taalam dismissed claims by Environment CS Keriako Tobiko that their title deeds were mere papers. He said infact, Tobiko acted as an advocate in one of the disputes involving the land in question.
He said Tobiko wrote a letter to Narok County Council seeking a letter of no objection over subdivision of Enkarooni Group Ranch.
The letter, which was presented before court as evidence, was dated September 24, 1999.
Then acting clerk Michael ole Koikai, in a letter informed Tobiko that land owned by his clients was not part of the land that belonged to the defunct county council.
The Land Control Board informed Tobiko, through the letter, that it had no objection to sub-division of Enkarooni Group Ranch land.
At least six witnesses are expected to testify for the applicants. The hearing continues today.