A week after his death, Daniel Moi is buried in Kabarak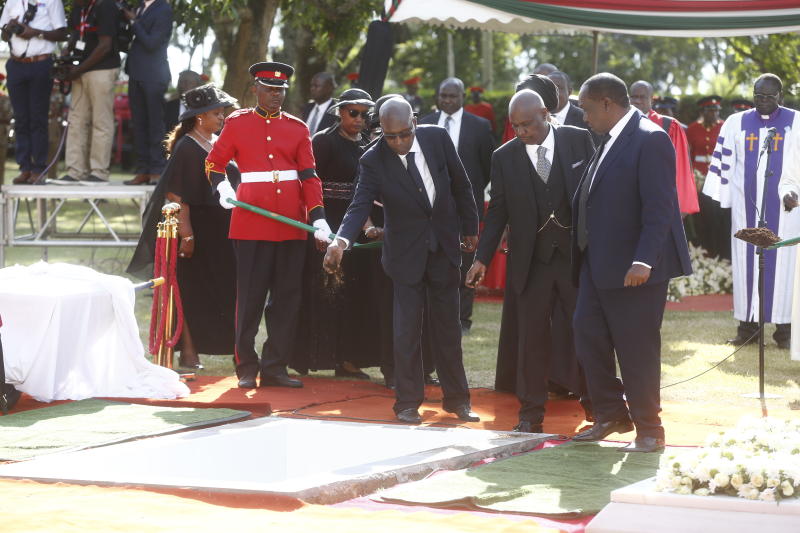 Kenya's second and longest-serving President Daniel Toroitich arap Moi was buried yesterday at his Kabarak home in a ceremony that brought to an end eight days of national mourning. It drew the curtains on an era dominated by a man whose shoes subsequent successors have found almost impossible to fill.
The elaborate ceremony started with the president's body being moved from Lee Funeral Home to Wilson Airport in Nairobi, and then onwards by a military helicopter to Kabarak University in Nakuru County for a requiem mass, and finally to his home where he was buried next to Lena, his wife.
After years in a marriage that was blessed with eight children, the two were reunited in death, to continue their union in the afterlife. Mama Lena died in 2004.
Moi was remembered as a humble, unassuming, generous leader who touched lives throughout the country and beyond. In the end, the funeral service became a celebration of his life, a remembrance of a man who became president accidentally. He was eulogised by the son of the man he succeeded, as well as by once sworn political enemies.
Yesterday, the political class read from the same script. There were no jabs. There was no mudslinging, no name calling, just the decency of giving a proper send-off to a former Head of State under a bright African sky as his children and grandchildren held on to treasured memories.
Death of Jonathan
The past year was not easy for the retired president. As the days went by, concerns about his health grew. And between hospital visits and shuttling between his home and doctors' appointments, he lost a son, Jonathan.
Under grey clouds heavy with rain that provided respite from the harsh sun, Moi brought tears to eyes of those in attendance at his son's funeral.
"Dear son, I sincerely thank God for giving me a son like you. You were not perfect, and you made mistakes … but you were blood of my blood, and you had a great loving heart. Stay well, son, until we meet again," Moi said in April 2019.
That day, those close to him say, something changed. The glimmer in his eyes dimmed somewhat for it is never an easy thing for a father to bury a child. Neither is it any easier for children to bury their parents, and unlike the Christian music that the president loved so much, when death hit his family, the pain was felt not only by those bearing the Moi name, but by the entire nation.
"Losing a parent is devastating," Moi's youngest son Gideon said. "It is at your weakest that you know those who are with you."
Close friends who eulogised Moi said he never liked surprises and like a giraffe, he could see well past the present and into the future to predict, somewhat, what it held. Even death, they said, he saw coming.
"I see my journey to heaven has started. Pray for me," former AIC Presiding Bishop Silas Yego remembered the words of the former president in September 2019.
"He remained unafraid."
But there is a certain suddenness to death that one can never prepare for. Even when medical reports show a near end, or when final conversations have been had, when it comes, these warnings do not matter one bit. No one is ready for the brutality and the finality that death brings.
There was no set procedure or protocol to mourn. The emotion was raw. Unedited. The ceremony oscillating between grief and celebration, between joy and sadness because although he had departed, Moi, who died last Tuesday, had done so much more in life.
The pulpit became a safe space for the speakers, who one after another provided an avenue for an outpouring of grief, revealing a thing or two only known to themselves and the departed president. Yego remembered him as an astute Christian who never turned back from his faith since his baptism in 1936.
His long-time Head of Civil Service Sally Kosgei remembered him as the proper 'International Man', as comfortable in Buckingham Palace, the streets of Jerusalem or in Washington DC as he was in his Kabarak home, gnawing at a rib of boiled goat meat, a central fixture in his diet.
Moi's long-time physician David Silverstein fondly remembered the days he spent with the president, taking time off their busy schedules to enjoy a glass of Kosher wine from Israel. He also remembered the excitement that engulfed the former Commander-in-Chief any time he visited Israel.
Environmental credentials
All through his presidency, his friends said, he was not fazed by what the world threw at him, and was comfortable in his abilities as the leader of an ambitious emerging East African nation. An ambition he represented and wanted to see in all who were around him.
The celebration of Moi's life was themed. The tents were draped in red, white and green. Each of these colours had a significance in his life.
"When President Moi was called upon to choose a Presidential Standard, he settled on green. This singular act inspired his conquest in conservation. His environmental credentials are next to none," President Uhuru Kenyatta said of Moi in his eulogy at the Nyayo National Stadium on Tuesday.
There was more to Moi than officialdom.
He spent half his life receiving people. And in death he was not alone; thousands braved the early morning chill and sat through the brutal sun that was out by 9am, hoping to be a part of history. Scores more walked for kilometres to bid farewell to the man who dominated their lives in almost all aspects. For a long spell of his life, he was farmer number one; driver number one; teacher number one. The professor of politics.
Those who spoke of him said he had a way of growing on you.
"He was many things to many people … he taught us ambition, focus, humility and the love of Christ," his grandson Clint said.
This humility played out in one of his most trying moments.
In 2002, the country was for the first time in a quarter century getting into a new political order, and the domination that Moi's party Kanu had enjoyed was being challenged. No one was sure how the president would react to a loss.
"In October 2002, we were told to tell him that his party was not doing too well. I gave him two possible speeches on the election outcome. A victory and a loss," Dr Kosgei said.
Two months later, while on official duty to the United States, the 2002 elections once again came up. The then US President George W Bush asked Moi what he thought the election outcome would be.
"May the best candidate win," he said.
At the end of that year, Kanu was out of power.
"He was ready," Kosgei said in her moving tribute to the former president. "I will always remain grateful for his generosity and respect."
The service was held at Kabarak University's sports grounds, just a few metres away from one of his favourite places, the Kabarak AIC Chapel. So religious was Moi that one of his last wishes to Yego was that the man of God gift each of the president's surviving children with a Bible.
Decades of being Commander-In-Chief lionised him. But underneath the armour there existed a softer man who found joy in the little things in life.
Joy in having a glass of red wine surrounded by friends or before bed. Joy in attending the wedding of a friend's child. Joy in being there to hold the hand of his doctor's eight-day-old son soon after being circumcised. Joy in openly showing anger when those he cared about went out of character. Joy in following up on promises long made and making sure they were honoured. And later on in life, rediscovering the joy of farming.
"Alas, his body had fought all his battles … we grieve our patriarch but grief comes from love … the pain of grief will fade, but will be replaced by love," Dr Silverstein said before donning a Kippah and reciting the El Maleh Rachamim - the Jewish prayer for the dead.
It was for the man who, while vice president, had trusted a 33-year-old with his life. Their relationship was to stretch some 42 years.
The Rachamim was fitting for the man who believed there existed some link between the Kalenjin and the tribes of Israel. His time had come. He was human.
Final resting place
At 4.22pm when the 19-gun salute went off, there was that ever present reminder that death is a path one walks alone, and can only be escorted by those held closest to the heart.
His children, grandchildren, nephews, nieces and other close family members and friends, all of whom numbered 400, escorted him his final resting place.
But before that, at around 3pm, there was the passing of a baton from one generation to the next. A replica of Moi's famous rungu was handed over to Raymond, the eldest son in the Moi homestead.
He accepted it, and accepted the responsibility that comes with his new position, and then passed it on to Gideon, selflessly recognising his younger brother as the family's political spokesperson, while he remained the head of the family in all other matters.
At 4.25pm Air Force officers performed the Missing Wingman formation. Then the ceremonial song, Long Revel, was played out.
At 4.28pm, Yego made the final readings and administered the final rights.
"I tell you brethren, flesh and blood cannot inherit the Kingdom of God … we praise God for his life. He is now with his maker," he said.
At 4.32pm, the family moved to the grave and slowly threw soil towards Mzee's coffin. Just like the giant wreaths of white roses with a dash of red that dotted Kabarak grounds, his life went full circle.
At 4.50pm, a journey which began on October 10 last year with the hospitalisation of the former president and ended at 5.20am on February 4 this year reached its destination, with the final benediction performed at Moi's graveside.
By sunset, Mzee Moi sat a table with his son Jonathan. Perhaps to his left was his wife Lena and opposite him was his grandson Kiprono who died in 2015. Together, they looked down at those they have left behind. And those they left behind will always be looking up, towards those who have gone ahead of them.