Cannon booms 19 times, Moi's body finally lowered to the grave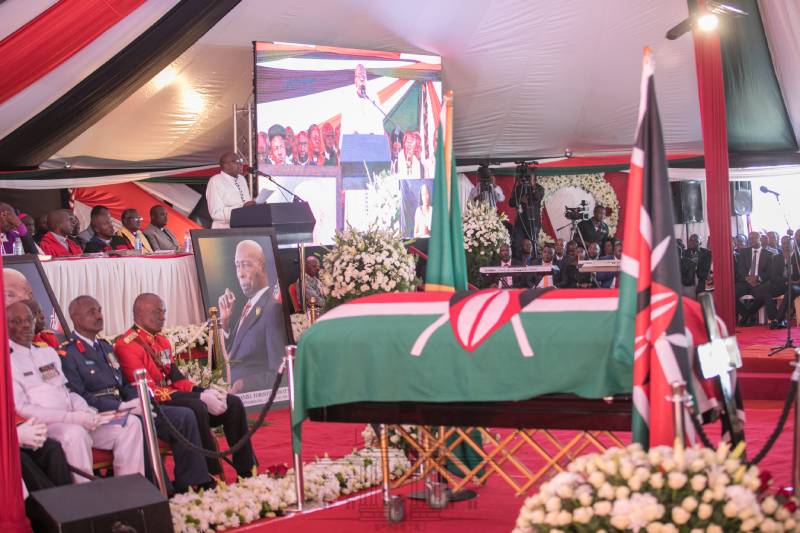 Kenya's second president Daniel Toroitich arap Moi was laid to rest at his Kabarak home in Nakuru County on Wednesday with all the protocols of a State funeral.
The cortege left Kabarak University at around 4pm after the funeral service and headed to his nearby home residence. The soldiers walked in harmony – a symbolic gesture of Moi's sturdy walk during his 24-year rule.
History was made in yet another State funeral that Kenya has had. The National anthem was sung and the fallen statesman accorded a 19-gun salute.
The military took charge of the funeral of a man who ruled the nation for 24 years. He is fondly remembered as a man who ensured Kenya remained united and peaceful.
Bishop Yego led the mourners in a word of prayer and the family paid their last respects.
The casket was lowered into the grave as a military band played Christian hymns.
"For a man who has been described as a servant of God, peacemaker and a statesman by many, he was prepared for his death, Retired Bishop Yego who said.
"I know my days are over," the bishop quoted Moi as telling him.
He reminded the mourners how Moi was a humble man who told the truth and forgave.
All Moi's children were given a Bible in of honour Mzee's wishes.
Moi married Lena in 1950 and had eight children; Doris, Jennifer, Jonathan (deceased), Raymond, John Mark, Philip, Gideon and June. He leaves behind 21 grandchildren.
Baringo Senator Gideon Moi was urged to step into his father's political shoes by his elder brother Raymond who symbolically handed him Moi's famous rungu, signifying that leadership had passed on to the last-born son of Mzee Moi.
Gideon expressed his gratitude to Kenyans who had supported the family throughout the mourning period.
Eulogy
There seemed to be more laughter than tears during the funeral service at Kabarak Grounds, a reflection of a long life lived in the company of good friends and family.
Eulogists remembered how Moi had made a difference in their lives describing him as a gentleman, statesman, leader, friend and father.
President Uhuru Kenyatta told Kenyans how Moi held his hand after the death of his father, Kenya's first president Jomo Kenyatta, and just like a son he had lost a man he called father.
"I'm here to bid farewell to a father whose love I saw and felt," Uhuru said.
To ODM leader Raila Odinga, who talked about his family's long-standing ties with the former President, Moi was a true African who could predict the future.
DP William Ruto, who said he graduated from Moi's school of politics, describing him as a man who had a great heart and loved unity.
"We are sending off an icon, a statesman. For those of us who knew him when he was about to retire, we became his lastborns in politics," he said.
Moi's grandchildren showered praises on the former president.
Moi's first grandson Clint Kiprono Moi said, "For a man of great stature, the name Moi was synonymous with the presidency." He recalled when he was younger his peers would ask: "Moi wa Uganda ni nani?"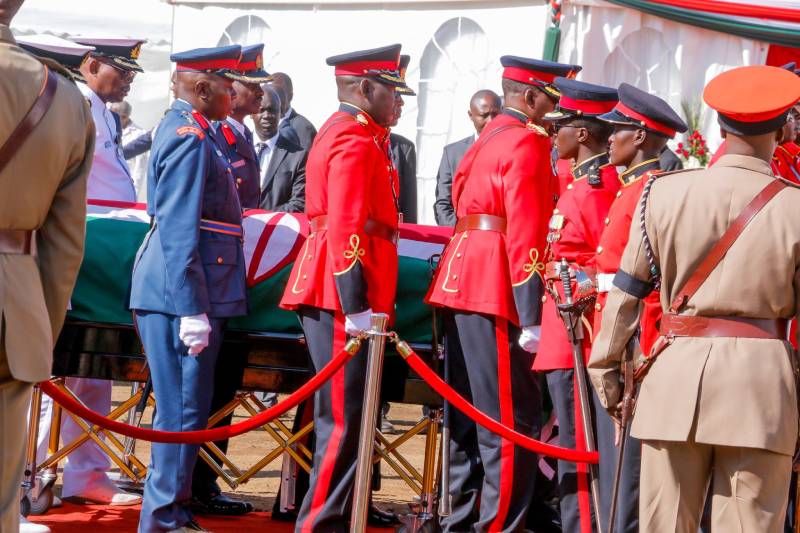 His doctor, David Silverstein described Moi as a devout God-fearing man and an exemplary patient who followed his advice on diet and medication.
He revealed Mzee Moi and one-time Attorney General Charles Njonjo occasionally partook of sweet, sacramental wine from Israel which they called "Dawa ya Wazee".
Moi sought medication in Israel, a country, Dr Silverstein says is a land of miracles. Their doctor-patient relationship lasted for 42 years.
Arrival of the body at Kabarak
The much-awaited funeral service at Kabarak University Grounds kicked off at around 10 am following the arrival of the body in a military transport helicopter at Kabarak airstrip at around 8.40 am.
The flag-draped casket was offloaded on to a gun carriage and gently wheeled to repose.
The eight pallbearers had their hats off in honour of the fallen leader.
The service was televised on screens at Afraha Stadium in Nakuru, Moi's ancestral home in Sacho and Kabarnet town in Baringo County.
Mourners had filled Kabarak grounds at crack of dawn ahead of the sendoff of Kenya's longest-serving president. Braving the scorching sun, they stayed throughout the funeral service that was a military affair.
The second president passed away on Tuesday, February 4 aged 95 and was buried beside his wife Lena, who died in 2004.