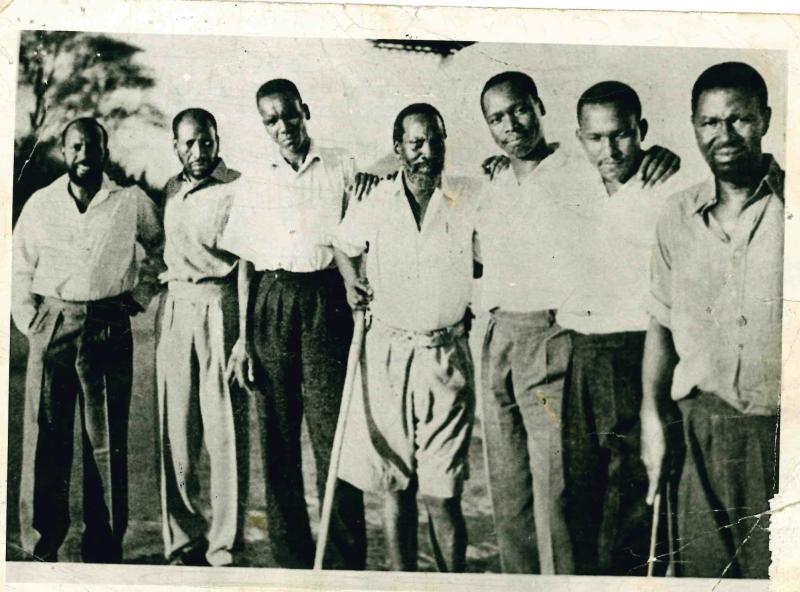 Colonial historical accounts of the late President Daniel arap Moi depict him as a steely, unassuming character, one given to strong political views and being in the right place at the right time. His demeanor though, and expression, sold a false narrative so much so that much later in President Jomo Kenyatta's succession, many compared him to a passing cloud. Moi's survival instincts began working for him from his first day in politics when on October 18, 1955 he walked into the Legislative Council to replace John ole Tameno. He had been recommended by missionary Earl Anderson, barely two months after moving in to deputise him in a Bible College in Kapsabet.
SEE ALSO: Nairobi's growth shocked Mkapa — Recalls ADC
"Moi happened to be at the right place at the right time," Godfrey Sang writes in
Just for Today, the life and times of Jean-Marie Seroney.
When the first elections for Africa Legco members were held in 1957, the queer voting system designed by Walter Coutts notwithstanding, Moi survived the odds. In the system, 10 qualifications relating to education, property and practical public service among others, would determine how many votes one voted with, to as many as three votes per person. "In the election generally every one of the original nominated members was defeated with the sole exception of Daniel arap Moi, the greatest survivor of Kenyan politics," Keith Kyle writes in
Politics of the Independence Kenya.
Walter Odede, WWW Awori (North Nyanza), Apolo Ohanga (Central Nyanza), FK Arap Chumah (South Nyanza) and Jimmy Jeremiah (Coast) had been in the pre-1957 Legco.
SEE ALSO: Our political parties have failed dismally
Moi was now surrounded by newcomers - Bernard Mate (Central), James Muimi (Eastern), Tom Mboya (Nairobi), Ronald Ngala (Coast), Masinde Muliro (Nyanza North), Oginga Odinga (Nyanza Central) and Lawrence Ogunda (Nyanza South). Within just a year of his election, Kyle says, Moi had created "out of his backward pastoral tribe a Baringo District Independent Party because, he said, tribalism will live for at least another 50 years." Other accounts call the party the Nandi District Independent Party which was run from his Land Rover, a KFF 82. He also carried along in it a typewriter.
Hotel room
SEE ALSO: Last years of Kenyatta, Moi, Kibaki
These early political activities laid the basis for his involvement in national politics of pre-independence days. Accounts show that Moi was at the heart of the founding of the first national party after restrictions were lifted. It was in Moi's Bloomsbury Hotel room in Lancaster where the first attempt to form Uhuru Party of Kenya was broached on the sidelines of the constitutional talks in 1960. Jaramogi Oginga Odinga convened the meeting to the exclusion of Tom Mboya. But when the May 1960 meeting in Kiambu where the Kenya African National Union (Kanu) was launched, Moi and Muliro were abroad. They were elected Assistant Treasurer and Treasurer respectively. They both rejected the posts when they came back. Moi is said to have been more inclined to go along with Kanu, but when he saw to what extent the combination of Gichuru, Odinga and Mboya at the top amounted to, he backed down. Instead, he took part in meetings held in Eldoret on May 21 and Chepkorio on June 11 dubbed Kalenjin Political Alliance meetings which provided the groundswell for an alternate party. "Moi told the Chepkorio rally of over 6,000 Kalenjin that political organisations that started at the top did not flourish democratically. The right way was to start at the location and district level, where moves towards dictatorship could be curbed at source," Kyle writes. Two weeks after the Chepkorio meeting, the Kenya African Democratic Union (Kadu) was launched in Ngong, coalescing seven tribal groupings with Moi as chair, Ngala as leader and Muliro as deputy leader. A Kadu extremist at the time, Moi had nothing good to say about Kanu. In fact when the Kanu-Kadu delegation visited Kenyatta in Maralal, not even the larger than life profile of Kenyatta could slow him down. When Kenyatta suggested that the two parties work together, Moi bitterly opposed, saying "under no circumstances would Kadu consider a merger with Kanu". Bildad Kagia, Kenyatta's colleague, is said to have been the one who saved the day when he steered the discussion to a different tangent. Through a clever mix of hard and soft play, and as Kanu fought among themselves, Kadu gained the favour of colonial administration so that by April 1961, Ngala became the Leader of Government Business and Muliro minister of commerce and Moi minister of education. At the Lancaster Conference talks, while the British were making nasty comments about other African delegates, including how Jaramogi would froth at the mouth after talking endlessly, they reserved choice comments for Moi. "Daniel arap Moi spoke to the relevant points, introducing them with an immense snap of his fingers. Indeed I have never known anyone else who can make such a formidable sound which penetrated the large room like the crack of a whip," Michael Blundell recalls in his memoirs,
A love Affair With The Sun.
So clear was Moi and his Kadu colleagues on what they wanted that when Secretary of State Reginald Maulding came to Nairobi in July, he and Ngala staged a walk out from a meeting on structure of regionalism as it related to public service.
Coded messages
One given to coded messaging, Moi is reported to have constantly said in meetings ahead of the first African elections, "wait and see when I blow the whistle" in subtle warning against Kanu dictatorship. The reference to the whistle also had another connotation: In his memoirs, Blundell recites an earlier "whistle" incidence relating to Kenyatta's speech in Lancaster conference which betrayed his intention for the white highlands of Rift Valley. When he suggested that his people must be allowed to take up land in the Rift Valley, Blundell says there was a long drawn out "aah" from the Kalenjin and Maasai representatives, including Moi. "Willie Murgor from Eldoret area produced a whistle and blew a long note o alarm on it," Blundell writes. Moi's whistle reference was therefore understood in the context of land ownership in Rift Valley. Surprising for all his bravado, Murgor was among the first Kadu people to join Kanu complaining of among other things blowing of whistles, sharpening of spears and talk of secession. Appreciating what lay ahead -- the British were meticulous in their analysis of scenarios -- they encouraged Moi and Kenyatta to get closer and to work together. "As a result, Moi now goes direct to Kenyatta with most of his regional or tribal troubles instead of coming to me and my then having to talk to Kenyatta. Kenyatta has responded in his usual friendly way, with the result that the two of them are now on pretty goof terms," a senior British official wrote on the eve of independence. The relationship tightened upon independence with dissolution of Kadu.