Another fisherman killed by a hippo in L Naivasha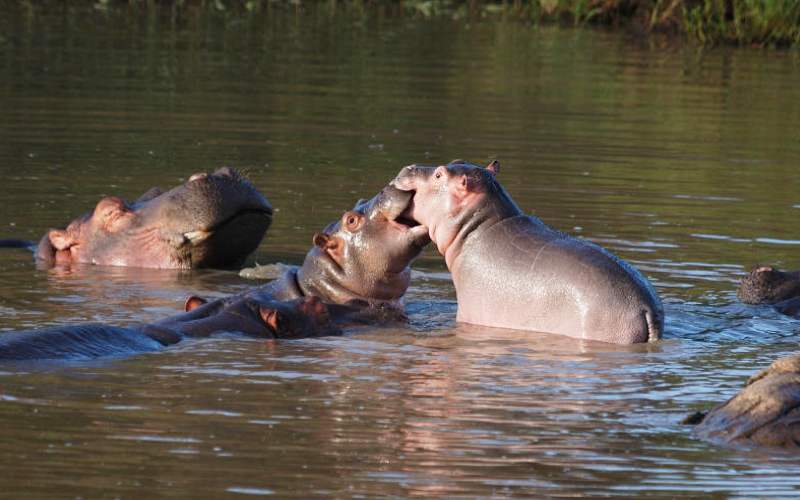 The number of fishermen killed by hippos in Lake Naivasha in January hit four after another one was attacked and killed.
The fate of the second victim was unknown as fishermen from Karagita landing beach where the attack occurred embarked on a search mission.
The two foot-fishermen were laying their nets near the beach when the lone hippo attacked.
Witness Amos Mbogo said a group of illegal fishermen was setting their nets when the attack occurred.
He said the hippo bit the hand of the missing victim before turning to the deceased, crushing his hand and stomach using its powerful jaws.
"There was little that his colleagues could do and had to wait before retrieving the body from the lake while the fate of the other one remains unknown," he said.
According to David Kilo, the chairman of the Lake Naivasha Boatowners Association, the attacks have increased, mainly targeting foot-fishermen.
"In the process, many have lost their lives due to hippo attacks," he said.
Over the weekend a German was attacked by a hippo around South Lake and seriously injured as his relatives fled.
The latest attack came four days after another foot-fisherman was attacked by a hippo and died while undergoing treatment at the Naivasha Sub-County Hospital.
Early last week, a worker from a private ranch in Kongoni area was gored to death and his colleague seriously injured after being attacked by a lone buffalo.
Naivasha sub-county commissioner Mathioya Mbogo said the increase in the attacks is worrying, with foot-fishermen being the most affected.
He noted that his office is planning a meeting with KWS and other stakeholders around the lake to address the matter.
Mbogo attributed some of the attacks to an increase in human activities around the lake.