Fake KDF recruits arrested at Moi Barracks, Eldoret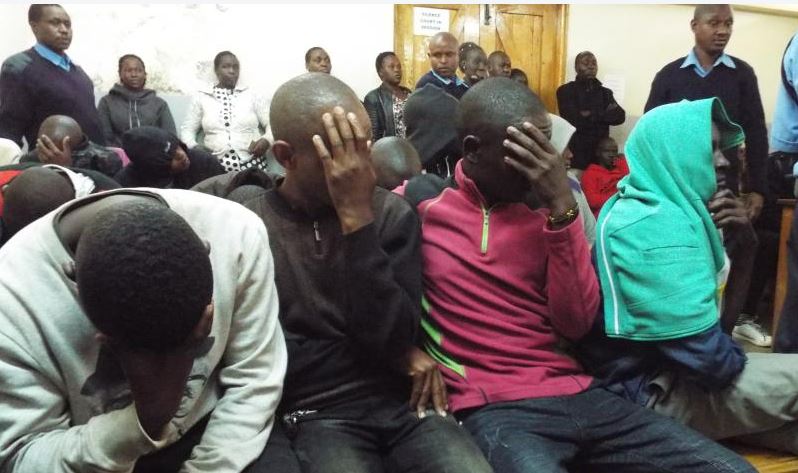 99 youths from various parts of the country have been arrested after they presented fake 'calling' letters to join the Kenya Defense Forces (KDF).
The would-be recruits got a rude shock after they were arrested as new recruits were reporting for the mandatory military training at the Recruit Training School (RTS) at Moi Barracks in Eldoret on Sunday.
The youths who included nine females were part of hundreds that had reported for the commencement of the eight-month-long training when they were arrested with the fake letters.
The recruits are said to have been defrauded in what military officials are calling a recruitment scam and warned that the numbers of duped youths soared as compared to last year.
KDF Public Affairs officer Col Paul Njuguna said the youths upon verification of their calling letters found they had been duped into buying their vacancies.
"Before the start of the recruitment exercise last year, we warned the public against unscrupulous individuals going around the country saying they are agents of KDF. It is sad that many young people fell into the trap and paid millions only to be arrested when they report to training," said the KDF official.
He said KDF does not conduct other recruitment outside the 322 gazetted centres as announced in the local dallies and the youths were victims of fraudsters preying on desperate population.
The suspects were questioned by the Directorate of Criminal Investigation (DCI) officers and will be prosecuted as soon as investigations are concluded.
"The suspects gave out Sh300,000 to secure the calling letters. We have involved the DCI, National Intelligence Service and the Office of the Director of Public Prosecutions to ensure due recruitment process was followed," Njuguna said.
Last year, 70 youths were also arrested after presenting fake calling letters to the military officers at the recruit training school and were charged with two counts of forgery, possessing forged calling letters and presenting fake documents at the recruit school.