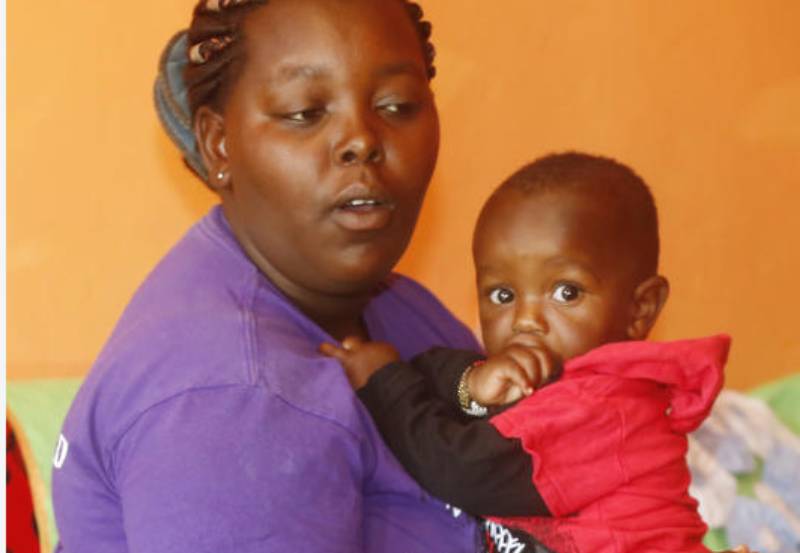 It is around 9am in Nyakinyua village in Solai, Nakuru County. Rose Wangui is finalising her day's laundry among them clothes of a toddler. Her activities are disrupted by the cry of her 10-month-old baby who just woke up from his morning nap.
The cry ignites both happy and sad emotions but she chooses happiness over sadness as she emerges from the house cuddling the baby.
"Since I got this baby, my life has changed. He has restored joy and warmth in my house. I can afford a smile," said Wangui.
Her life took a twist on May 9, 2018 at around 7:15pm when she was preparing dinner for her husband Joseph Gathogo and their four children.
The house had a warm ambience as Wangui admired the presence and playfulness of their children Jane Wambui 8, Isaac Kamau 6, James Karanja 3, and Gideon Wachira who was barely a month old.
At that time, Gathogo was just a few metres to their house when a huge volume of water tens of feet high moving like a boulder swept through their home. He was swept away by the raging waters and was lucky to perch on a tree, his heart worried for his young family.
In his house, Wangui had gotten hold of their children but the water overpowered her, each being swept a different direction. She was later rescued by residents.
The Patel Milmet dam located on a higher ground had just compromised its walls releasing nearly 200 million litres of water that washed through Nyandarua, Energy and Nyakinyua villages. The destruction extended to over ten kilometres.
As the search and rescue mission continued, they clung on to hope of finding at least one of the children alive.
Then came the shocker after bodies of the four children were located and positively identified. "It was the most heartbreaking moment in my life. Having been with my children healthy in our house in one minute and being told they all are dead the next minute. I wished the waters could have taken me together with my children," Wangui said tears welling in her eyes.
At least 23 children died in the tragedy that claimed 47 lives. "Ruiru Sub Location was the most affected. Wangui's family lost the highest number of people. It has been a painful journey for them. It has taken counselling for the couple to get back on their feet," said area Chief Peter Chege.
Sometimes, Gathogo beat himself up so much feeling like he let down his children by not saving them from the raging waters. Since the tragedy, the couple has struggled to accept the fact that their four children are gone.
Government and non-government actors helped re-establish their lives but the loss is still so fresh in their hearts.
Wangui and Gathogo have since been blessed with a baby boy, now 10 months old. Her sister Beth Wambui who lived a few meters from her home also delivered triplets two weeks after her son was born. She said the four children have pacified the pain they have been going through.
"My son and those of my sister have somehow filled the void left by my children," she said. Wangui said she still plans to give birth to more children.
Chief Chege said there were several other families in the area who have been blessed with children bringing back the village into life.