Famous historical sites cry for man's attention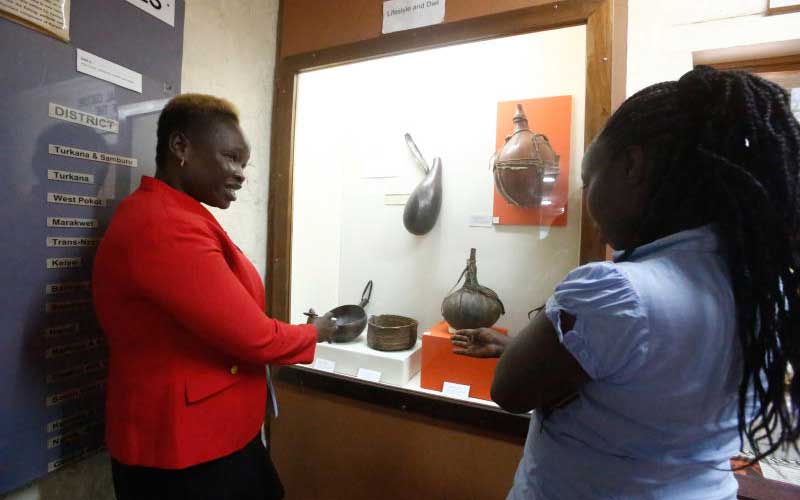 They are regarded as most endowed sites and even inspire learners to pursue geography and history-related courses.
The famous geological and archaeological sites - Hyrax Hills National Museum, Kariandusi Pre-historic sites and Menengai Crater in Nakuru County put Kenya in the world map.
On regular days when schools are closed, these sites are almost silent, recording low numbers until schools open to simmer up the sites whose recognition goes beyond borders.
The sites are part of the critical, geologically-rich areas that tell history of footprints left behind by early man, detailing volcanic activities and stories of formation of the great Rift Valley.
Geological knowledge
"The first and second terms are our busiest because we record a higher number of learners. Locals also make significant visitation," Hyrax Hills National Museum Curator Lilian Amwada says.
The museum is one of the renowned pre-historic sites that tell the history of Sirikwa people, believed to have been assimilated by Maasai community.
It is named after hyraxes found within cracks of the rocks of the site that have since been an archaeological research area of pre-history East Africa. Hyrax Hills was proclaimed a national monument in 1945 and opened to the public in 1965.
Kariandusi, on the other hand, is among the first archaeological sites discovered in East Africa and possibly the first Acheulian site found in the region.
It sheds critical geological knowledge of the Rift Valley lakes and has huge deposits of diatomite.
Menengai Crater is the largest volcano caldera in Kenya and the second largest in Africa.
Despite the critical role these sites play in education and tourism sectors, figures reveal that Kenyans rarely visit them, and learners from primary and secondary schools and institutions of higher learning make the bulk of visitors to the museums.
With charges as low as Sh100 for an adult local citizen and Sh50 for a child, visitors barely total 30,000 yearly.
"Most visitors are students pursuing geography and history-related subjects. Couples come over for nature trails," says Ms Amwada.
In 2018, the museum generated Sh1.6 million while in 2019, total revenues amounted to Sh1.7 million. Records from the museum reveal that in the first quarter of 2019, 178 resident adults visited while 4,202 primary and secondary school learners visited.
"There is need for local citizens to visit these museums and be able to tell the history which they are part of," says Amwanda.
Visit the sites
At Kariandusi pre-historic site, just like Hyrax Hills, all is silent and less busy in January as schools open for the first term. Kariandusi pre-historic site also banks on students.
"Local visitors are not many, and most of those who visit here come in for educational purposes," Gideon Keesi, an official at the Kariandusi pre-historic site says.
He adds, "It is important to visit these sites. Here, one gets to learn about stone tools, volcanic activities in the Rift Valley and even the history of Rift Valley's lakes believed to have occupied larger parts of Nakuru."
In 2019, Kariandusi pre-historic site generated Sh1.2 Million. But unlike Hyrax Hills that is threatened by encroachment, Kariandusi's five acres remain intact.
National Lands Commission (NLC) Nakuru County Coordinator, Frank Kimbelekenya says part of the land has been grabbed, and that the issue was raised by the National Museums of Kenya.
"The issue was brought to our attention six years ago; part of the museum land has been encroached into, and part of it partly developed. The NLC is pursuing the matter," says Mr Kimbelekenya.
But even as the sites record low visitation partly blamed on poor marketing, the Nakuru County Assembly is discussing a Bill that seeks to provide for development, management, marketing and regulation of sustainable tourism.
The Nakuru County Tourism and Marketing Bill also seeks establishment of a tourism and marketing board to promote and facilitate tourism with a focus on cultural activities, wildlife, natural sceneries, ecological features among others.
The department will also collaborate with other public and private agencies to identify tourism attraction sites, features or activities and maintain an inventory of all sites.