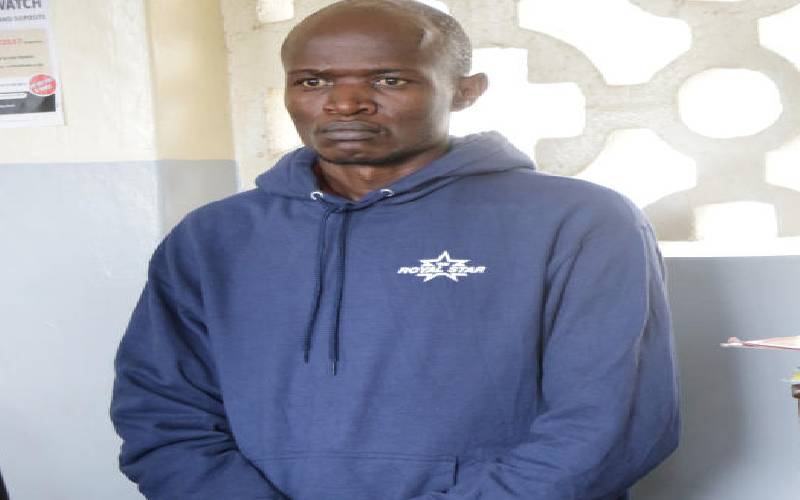 A police officer accused of attempting to kill his lover and her sister has been released on a Sh200,000 bond.
Yesterday, Nakuru Principal Magistrate Bernard Mararo also ordered Constable Saka Achimba not to leave his home town unless he is granted permission by the court.
Mr Achimba (pictured) is attached to the Critical Infrastructure Protection Unit at the Rongai Sub-county Police Station.
He is accused of attempting to kill his lover Phanis Nyabaro and her 17-year-old sister.
Read More
He allegedly doused the two sisters with petrol before setting them on fire on December 28, 2019 at Ms Nyabaro's shop in Rongai Sub-county.
Bailable offence
Nyabaro sustained 18 per cent burns, while her sister sustained eight per cent.
Achimba had earlier argued that the offence he is said to have committed is bailable, and he had constitutional right to be released on bond.
He promised to comply with the bond conditions.
Moenga Moraa, the victim's lawyer, opposed the bond application, saying the victims were still in critical condition and Achimba could hurt them.
"There is a likelihood that the accused may hurt the victims further if he is released on bond," said Ms Moraa.
She also noted that the victims have not recorded their statements yet.
"The victims are in no condition to record statements. I urge the court to deny the accused bail until they record their statements," Moraa said.
Prosecutor Nelly Waweru said she had no compelling reasons to oppose Achimba's bond application.
She, however, urged the court to order the accused not to interfere with witnesses who include the victims.
"The court should bar the accused from going anywhere near the victims until the case is concluded," said Ms Waweru.
Mararo agreed with Achimba that the offence is bailable. He also observed that the investigating officer had not opposed the bail application.
The case will be mentioned on February 17.