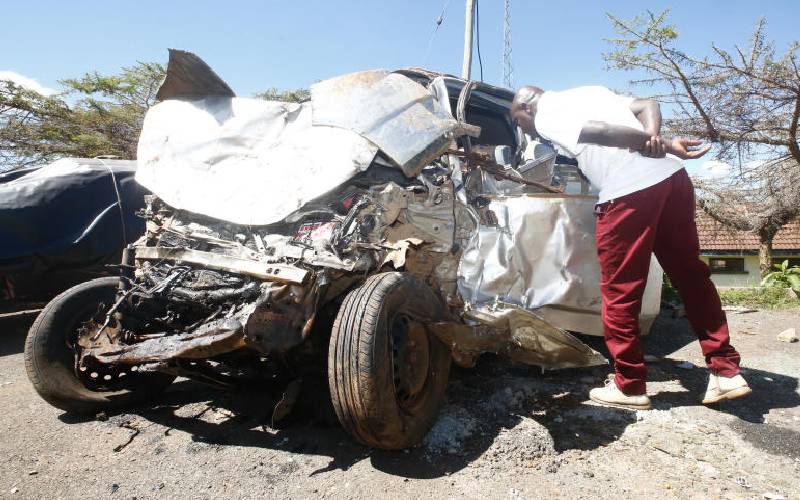 A decision by a father to lend his son a car ended in tragedy when the son and four of his friends died in a car crash after a night of merrymaking.
The five, three men and two women, were driving home when their car hit a culvert and landed in a ditch on the Eldama Ravine-Eldoret road in Baringo County on Wednesday morning.
They had attended a New Year's party at Taidy's Restaurant in Eldama Ravine town.
Barnabas Kitilit, the father of Philip Kemboi who was driving the vehicle, said he had spent better part of the day with his son before they parted at around 11pm at Eldama Ravine.
Kitilit said, together with other family members, they had gone to Emining where he had been invited by his in-laws.
His son, 26, was driving one of the family vehicles while he (Kitilit) drove another one.
"We went to Emining and came back well. Upon reaching Eldama Ravine at around 11pm, I proceeded home as my son said he wanted to have a party to usher in New Year with friends," said Kitilit.
Kitilit proceeded home leaving his son. Little did he know that was the last time he would see him alive.?
Kemboi graduated last year from Moi university.
The Wednesday 5.30am accident plunged Poror village in Lembus-Kwen Ward into mourning on the first day of 2020.
The other two men who died were identified as Jimmy Kipruto and Bramwell Kiptoo.
Kiptoo, 27, was to join university this year to study engineering. He completed Form Four in 2016 and scored C+. His parents have been looking for money to pay his fees.
Police are yet to identify the female victims.
In a bid to trace the last moments of the deceased persons, The Standard team visited the restaurant where the five were among hundreds of revelers who ushered in the New Year there.
The management could not, however, comment about the five, saying the place was full of people and it was difficult for them to single out the victims.
"It is not possible to single out the four. The place was full of people - even guests from outside the area," said a supervisor who did not want to be named because he is not authorised to speak on behalf of the management.
We managed to trace Kipkoskei Korir, the father of Kiptoo.
He was still in shock after viewing the body of his son at Eldama Ravine Hospital mortuary.
"My son was to join university to study engineering now his body lies on the cold floor of the morgue," he said, trying fight back tears.
Korir recalled the last moments with his son before he left home to usher in the New Year with his friends.
"He was jovial and upbeat because I had assured him that we had enough money to send him to the university next year. I can't believe he is now gone," he said.
For Judy Tarus, mother of Kipruto, also aged 27, the events of the morning of January 1, 2020, will forever remain etched in her mind.
Ms Tarus recalls one of her children receiving a phone call on his mobile phone then he asked the person on the other end; "What time?".
None at home wanted to tell her what was going on.
"I felt weak and could not stand. I went and sat down when one of my sons came and informed me of the news," she said.
She added:"I knew something was wrong immediately I called him and he could not answer, I froze and felt I had no strength."
Tarus said Kipruto was her third born child. She said he was very helpful and used to support the household whenever he earned some money from his manual work.
She recalled that before he left for the party, Kipruto gave her Sh300 to buy whatever she wanted for dinner. Little did she know that it was the last time she would see her son alive. She said the accident took the lives of the three men she described as best of friends.
Kitilit, a former high school principal, dismissed claims that the five friends were drunk, saying this was just an accident. His son, he said, could have fallen asleep while driving the car.
Lembus Kwen Member of County Assembly Lawi Kipchumba called on well wishers to assist the families as they prepare to lay their loved ones to rest.