Second Xmas in hospital for mother shot in the head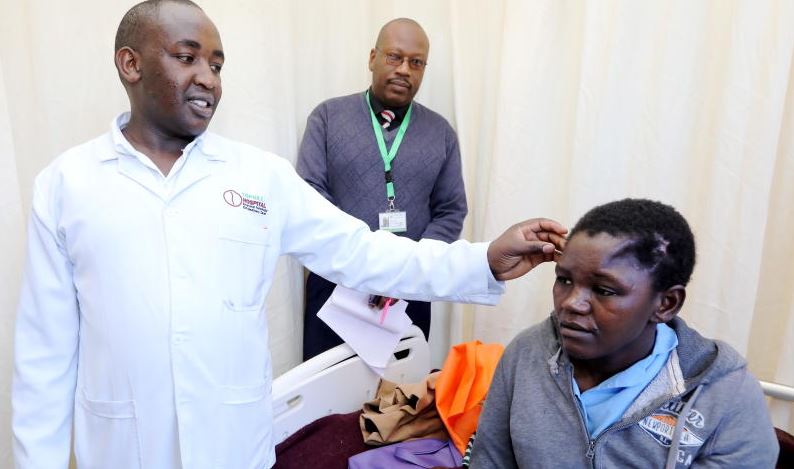 She was full of energy, enjoying life in a remote village in Laikipia County until one night last year when everything changed.
At midnight on December 22 at Milimani Village, Laikipia West, Anne Kamama's life was irrevocably altered by a shooting that extensively damaged her brain.
The mother of four was shot in the head by armed people believed to be bandits and left for dead. The bullet shattered her head, damaging a section of her brain. Her survival and recovery have astounded her family and doctors.
Today, she will be spending her second Christmas in hospital in Eldoret.
Relatives and villagers in Milimani had assumed Ms Kamama, 42, was dead after they found her lying in a pool of blood with brain matter gushing out of her shattered skull.
Kamama is slowly recovering at Tophill Hospital where a team of doctors have performed three surgical operations that have resulted in the removal of skull bones.
The hospital has become her home since early January when she was rushed for an emergency operation.
Kamama has lived through plenty, including the loss of her memory and the paralysis of an arm and a leg after the chilling attack at her Milimani village home. Doctors and family describe her survival as "miraculous".
During an interview at the hospital, Kamama said she desires to go back to home and see her children grow.
She sat pensively on her hospital bed, trying to forget that dreadful night when her attackers pulled the trigger with the aim of killing her.
Because of the difficulty in speech caused by the head injury, Kamama left the talking to her daughter Margaret Apoo Muthee, 21.
Margaret, who has been at her mother's side since January, has been forced to put on hold her plans to join a college. She remembers the shooting occurred just as the family was preparing to celebrate Christmas last year.
Specialist surgeons
"We heard a commotion outside our house and we thought our calves had come out of their shed. Little did we know that the commotion was from bandits stealing our cows. My mum got out to check out what was happening and she was shot in the head. Her head was shattered and we thought she was dead," Margaret recalled as she sat on one side of her mother's bed.
She explained that the police were called before Kamama was rushed to Kinamba Health Centre, where medics referred her to a sub-county hospital in Nyahururu.
That same day, Margaret explained, her mother was referred to Nakuru Level Five Hospital, but her condition was complex and there were no specialist surgeons to attend to her delicate condition.
"She was admitted in Nakuru but there was no improvement in her condition. It is then that we rushed her to Eldoret for an operation when her head was full of pus. It was bad," narrated Margaret.
She said her mother underwent a series of surgeries conducted by a team led by Florentius Koech, a renowned neurosurgeon, spine expert and the CEO of Tophill Hospital. After this, her mother spent nearly two months in the Intensive Care Unit (ICU).
"My mother is a fighter. She has seen it all. We were certain that she was no more but we thank God she is alive," Margaret said.
She added that she has not left her mother's side since the night of the attack and will not do so until the day she fully regains her fitness.
"It has been difficult for me and my family but I have decided to suspend everything, including my ambition to join college. What happened was painful and this is the time my mother needs me the most," she told The Standard.
Kamama's husband, Peter Muthee, who was not home during the brutal attack, said he is proud of his wife's bravery.
Mr Muthee, a casual labourer, said his wife's condition has weighed down the family emotionally and financially, adding that they have spent large sums of money travelling to Eldoret, which is more than 400 kilometres away from their Laikipia home.
"Her medical bill has risen to Sh4 million, but we have only managed to raise Sh200,000," he said.
A miracle
Tophill Hospital Manager David Chebii said: "She has become part of us. In fact, she has been here longer than some of our staff."
According to the hospital's CEO who performed the surgery, the hospital did everything possible to save Kamama's life when she was brought in in critical condition.
"Ms Kamama almost died twice in theatre .... It is a miracle that she is alive today," Dr Koech said.
The neurosurgeon said part of the patient's brain was outside her head, and the bullet left a wide open exit wound, which required a series of emergency surgeries. The bullet entered through the right side of Kamama's head, above the right ear, and exited above the left ear.
Koech said the patient is yet to fully recover her speech abilities and her right arm and leg are still paralysed, but said this could be corrected through physiotherapy.