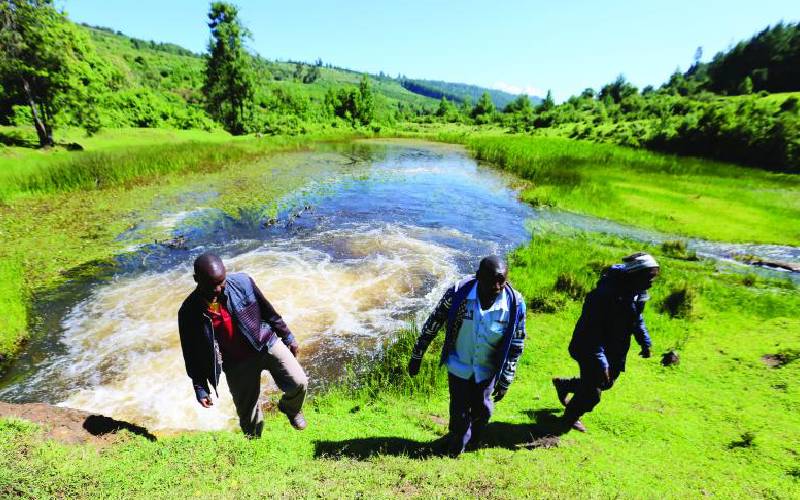 Any delays in the construction of the controversial Arror and Kimwarer dams would have ended up costing taxpayers over Sh50 million a day.
Considering that few if any projects are ever completed on schedule, the cost overruns from delays alone would be significant had it not been for recent interventions by the Government.
Failure to stick to agreed project timelines is among the many avenues exploited by contractors in collusion with government officials to steal over the years.
An Italian anti-graft agency has released hitherto confidential tender documents for the two dams that reveal a skewed procurement process.
The Elephant, a Kenyan digital publication, has since published what it terms as "the real story behind the dams scam" authored by Italian journalists Alessandro Da Rold and Lorenzo Bagnoli.
Read More
According to the tender agreement, Kerio Valley Development Authority, the employer, would pay a sum equivalent to 0.1 per cent of the contract price for every day there was a delay in the construction of the two dams.
The contract price was set at Sh50 billion.
Contractor collapsed
CMC di Ravenna, the troubled contractor that has since collapsed, was also allowed to vary the project cost by up to one-tenth of the contract price.
"This contract award did not have contingencies. However, during negotiations with the National Treasury, financiers and the employer, it has been decided to add 10 per cent contingencies," reads one of the contracts in part.
The contingency kitty should ordinarily be sufficient to cover unforeseen events that disrupt construction, such as the ongoing heavy rains.
Granting the additional costs for delays would be granting the contractor another level of insurance, but at the expense of the public.
Kimwarer Dam, whose construction has since been shelved, was the smaller project with a price tag of Sh20 billion, before applying the 10 per cent variation.
CMC Di Ravenna working together with Itinera – another Italian firm – were to build Arror for Sh28 billion net of taxes and 0.1 per cent price variation.
President Uhuru Kenyatta has since directed that the Arror project can continue, but with costs capped at Sh15.4 billion.
The fate of the project, however, lies in limbo considering the financial headwinds that the contractor has run into, and which have seen it file for bankruptcy protection.
Revelations of graft relating to the procurement for the two dams have cost the jobs of several officials, including former National Treasury Cabinet Secretary Henry Rotich.
More of Rotich's colleagues are due to face investigators this week over the similarly overpriced Itare Dam. CMC di Ravenna was the contractor but it has since deserted the site in Kuresoi, Nakuru County, after pocketing Sh11 billion and leaving the project 10 per cent complete.
Paolo Porcelli, the firm's managing director, is also wanted in Kenya to face fraud charges.
Engineers working at Itare had revealed the dirty tricks the contractor employed to get payments from the Government using forged completion certificates.