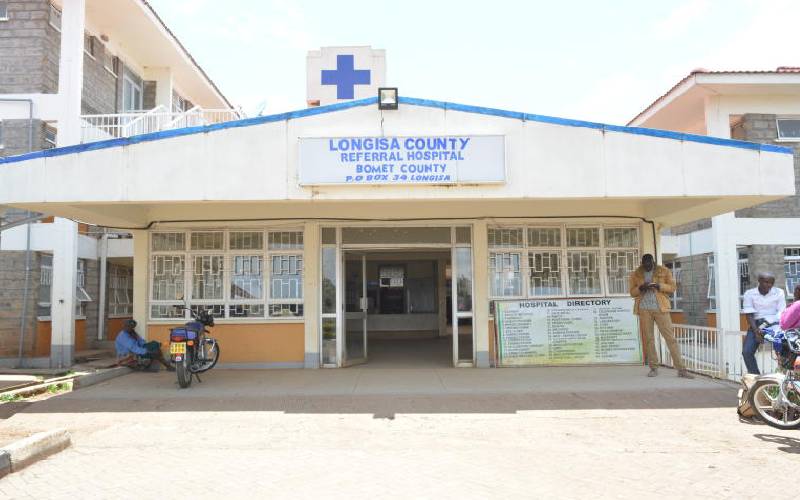 Services at Longisa Hospital have been paralysed by an acute shortage of doctors.
The county hospital has only seven doctors handling at least 200 inpatients and more than 1,000 outpatients.
According to the doctors' representative, the hospital requires at least 30 doctors.
"Seven doctors are not able to handle the high volume of work," said Dr Stephen Omondi.
The shortage has seen doctors offer only emergency and maternity services.
"We cannot provide quality services to all patients because of the acute shortage," said Omondi. Dr Omondi said that although the county deployed doctors from sub-county hospitals two months ago, this did not alleviate the shortage.
Omondi said doctors deployed to the facility also serve other facilities facing shortage.
Other sub-county hospitals affected by the shortage include Sigor, Chaptalal, Ndanai and Tegat. Omondi said services at Tegat have ground to a halt while Sigor, Cheptalal and Ndanai share one doctor.
The county is also facing a shortage of consultant doctors providing specialised care in renal, eye and oncology units.
There are four specialised doctors among them a general surgeon, orthopedic surgeon, family physician and a radiologist.
Cancer treatment
Recently, the county opened a cancer treatment unit at the facility that reviews five to ten cancer patients every day.
But operations at the unit have been hampered by the shortage of specialists to run it.
"It is worrying that newly opened departments might not provide intended services. Most patients are attended to by clinical officers and nurses," he said.
"Most kidney patients are referred to Moi Teaching and Referral Hospital, while the eye unit is run by a specialised clinical officer," said Omondi.
He said efforts to push for the hiring of more doctors have been unsuccessful despite plans by the county to expand medical facilities.
On September 30, doctors held a meeting with the executive that resolved to hire intern doctors. This has not been done.
Chief Officer of health, Joyce Tanui, admitted that there was an acute shortage of doctors, saying the issue was being addressed.
Dr Tanui attributed to the crisis to lack of a Public Service Board for some time, saying that this has now been set in place and hiring is expected soon.
"Plans are underway to employ medics from across all cadres to address the shortage and ensure service delivery," said Tanui. [Mercy Kahenda]