Lost battle: Bodybuilder succumbs to deadly injection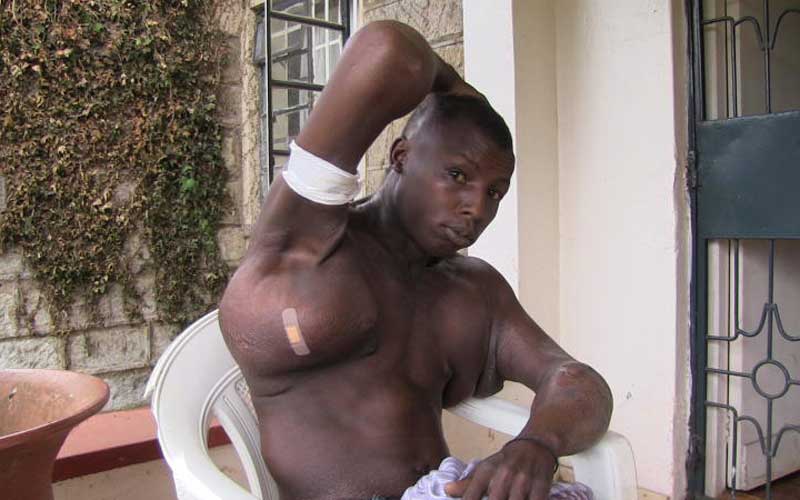 A bodybuilder who suffered body disfigurement after a synthol injection has died.
Ronny Rono, whom we highlighted in our September 1, 2019 Sunday Standard publication, died on Tuesday while being rushed to hospital.
Family members said Rono died after developing a myriad health complications.
Hilda Chepkemoi, the family spokesperson, said her cousin had been in an out of hospital since his story was first published and scores of well-wishers came forward to assist him get medical attention.
"He was admitted to Green View Hospital for two weeks before being discharged. Until his demise, he was in an out of various hospitals and was also being attended to by a private doctor in Kericho," she said.
Rono's aunt Mary Mabeche, a former Kericho nominated MCA, was devastated by the death. "We had hope that his condition could be reversed, it is unfortunate he had to die," she said.
Before his death, Rono's body was swollen and his arms were wasting away; he rarely got out of bed, and whenever he did, he could not look into the mirror without breaking down.
He was battling what doctors suggest was a case of synthol injection. The substance is injected deep into muscles to provide an immediate and temporary enlargement of the muscle body.
"Some bodybuilders favour a synthol injection over anabolic steroids because it does not come with the many side effects associated with steroids," reads a medical document on the subject.
It warns that effects of synthol can have devastating long-term effects, including permanent muscle disfigurement, muscle fibrosis and development of muscle ulcers and wounds.
In previous interviews, Rono denied ever having used the injection, but admitted that he was an alcoholic during his life as a bodybuilder, and that someone could have injected him with the drugs.
"I do not have a memory of everything I might have done," he said.
He said the condition began with a small swelling in his right arm before spreading to his left hand in April 2017.
An MRI chest analysis conducted by Dr W Otieno, a radiologist at Lakeside MRI indicated that Rono's pectoris muscles were grossly enlarged and showed heterogeneous contrast.
Dr Philemon Letting of Kericho Fig Tree Hospital, upon reviewing the MRI also suggested that Rono's condition was as a result of a suspected case of synthol injection.
Ms Chepkemoi said the bodybuilder's funeral will be held on December 7 at Chemosot Village in Bureti Constituency.
"We are going to conduct a fundraising to offset the hospital bills and cater for the funeral on Wednesday," she said.
Well-wishers can contribute through Pay Bill no 763424.