Study: Why beast of burden could be extinct come 2022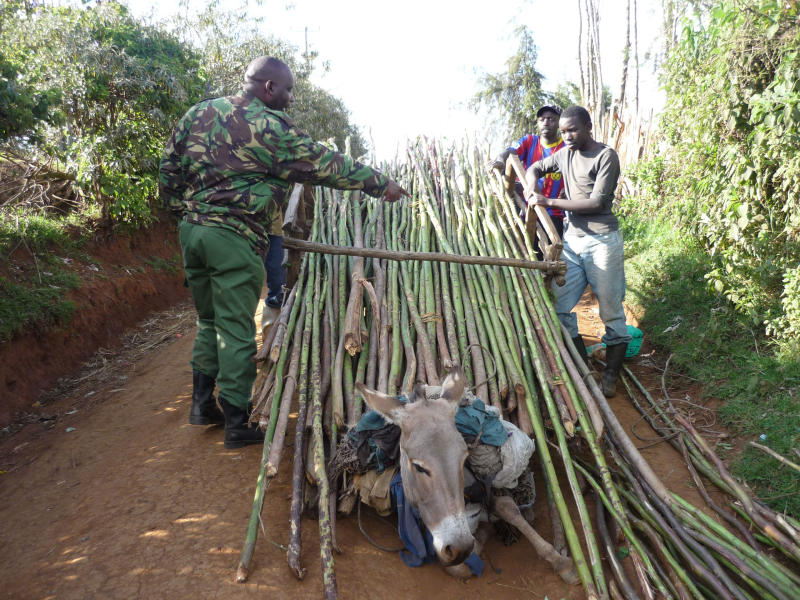 The country's donkey population is on the verge of extinction in just two years if urgent measures to preserve their numbers are not put in place.
A study commissioned by Brooke East Africa in 2018 points to the economic implication of both legal and illegal donkey hides trade from Africa to China that has threatened the existence of donkeys.
The current population of Kenyan donkeys is about two million.
On Wednesday, donkey smallholder farmers, keepers, users and traders from Kenya, Uganda, Tanzania and Ethiopia petitioned the government to abolish donkey trade and called for the closure of four donkeys slaughterhouses.
During a two-day Donkey Skin Trade conference held in Nairobi earlier this week, the stakeholders raised concerns over increased theft of donkeys across East African regions, which they attributed to the growing demand of their hides for the China market.
Some African countries have banned donkey slaughter due to rising cases of donkey theft as a result of demand for their hides in international markets.
While countries like Botswana, Burkina Faso, Mali, Niger, Senegal, Ethiopia and Tanzania have in the recent past banned slaughter of donkeys, Kenya, in contrast has licensed donkey slaughterhouses to meet the growing demand of the animal's products.
Uganda became the latest African country to protect its working donkey population by banning the trade in donkey skins in a strongly-worded statement.
But Kenya has become a transit zone for stolen donkeys across the region after the government licensed four abattoirs in Turkana, Baringo, Machakos and Naivasha.
Donkey hides are used in a form of traditional Chinese medicine called 'Ejiao', which is used in food, drinks and beauty products, sex stimulating products, anti-aging properties, curing anemia and boosting energy.
Similarly, donkey meat is consumed in many parts of China as it is believed to be more nutritious compared to beef, while hoofs are sought for the gelatin nutrients.
Donkey skins are boiled to produce gelatin, a key ingredient in the traditional Chinese remedy Ejiao, which is included in many popular Chinese tonics and is believed to improve blood circulation and cure coughs, relieve insomnia and irregular menstruation. Ejiao now goes for Ksh37,000 per kilo.
Increased demand
China does not have enough donkeys to meet the increased demand, resulting in a spike in importation of donkey skin from all over the world.
The average price of an adult donkey in Kenya has increased by around 225 per cent since February 2017 from Sh4,000 to the current price of Sh13,000 on strong demand from the Chinese market, while the skin retails at Sh18,000 per hide at local markets.
A participant revealed that reports of donkey theft cases pitting Chinese investors and donkey keepers were pending in courts.
However it has been noted that difficulty in donkey breeding has also contributed to depletion of local herds.
According to the report, Turkana County recorded the highest cases of donkey theft at 26 per cent followed by Kajiado and Narok at 12 per cent, Baringo 11 per cent, Nakuru 4 per cent, and Machakos and Kirinyaga at 3 per cent each.
The report by Brooke Action for working Horses and Donkeys on effects of the donkey and hide trade and livelihoods of smallholder farmers in East Africa reveals that the loss of donkeys and their slaughter in the bush may adversely affect the poorest people in the rural communities, whose livelihoods entirely depend on the animals.
Donkeys have economic benefits for the communities that keep them, including invaluable labour provision for household daily chores and income gained from water sale and lease of donkeys.
Others benefits include provision of cheap transport, income generation, and transportation of elderly, the sick and children.
"Serious welfare, health and safety violations have been associated with trade, transport and slaughter of donkeys for skin trade," the report stated in part.
The research, which was commissioned to survey smallholder farmers in Kitui, Kirinyanga, Nyandarua, Narok, and Bungoma, also warned of devastating effects of trade on local communities.
"If not curbed, the donkey hide trade could result in increased levels of poverty, vulnerability to shocks, and marginalisation of already deprived population and disadvantaged groups such as women, children and elderly people."
Community livelihoods
The 2019 data on the status of donkey slaughter in Kenya and its implication on community livelihoods by Kenya Agricultural and Livestock Research Organisation and Brooke show that a total of 301,977 donkeys were slaughtered from 2016-2018, with an average of 100,659 annually.
According to the study, the annual mean number of donkeys slaughtered comprised of 5.1 per cent of 1,965,632 donkey population recorded by Kenya National Bureau of Statistics in 2016.
The figure reveal shocking annual mean rate of diminishing population of donkeys, which is five times higher than the annual donkey growth rate of 1.04 per cent.
A report indicates that the government was reaping big from various levies, including meat inspection fees to both county and national governments from the four donkey slaughterhouses licensed by the State.
In 2016 to 2018, the four abattoirs paid between Sh66.7 million and Sh1.4 billion in revenue.
Chair of the Committee of Trade, Communication and Investment at East African Legislative Assembly Gai Deng, said she was shocked by the data revealing high rate of slaughter of donkeys in the region.
"We need community engagement to address the menace. Something must be done to bring the donkey trade to an end," Ms Gai said.
Kikuyu and Kabete Donkey Owners Association chairperson said there were loopholes in the laws governing donkey welfare and protection of donkey owners.
An Ethiopian donkey owner, Haji Nuro, who lost a number of donkeys to thieves, said most of the donkeys stolen from Ethiopia are smuggled to Kenya due to availability of ready market.
Brooke East Africa board chair Erick Kimani said 80 per cent of people who lose donkeys to thieves remained impoverished, and called for the government to ban the trade.
Brooke Global CEO Petra Ingram called for an end to cross-border donkey smuggling.
Ms Ingram said Kenya had become the highest exporter of donkey meat and hides to Chinese markets.
"If there is no action taken now, this donkey business will devastate livelihoods of many families who depend on donkeys for their economic gain. We must bring to an end export of donkey meat and its associated products," Ingram warned yesterday.