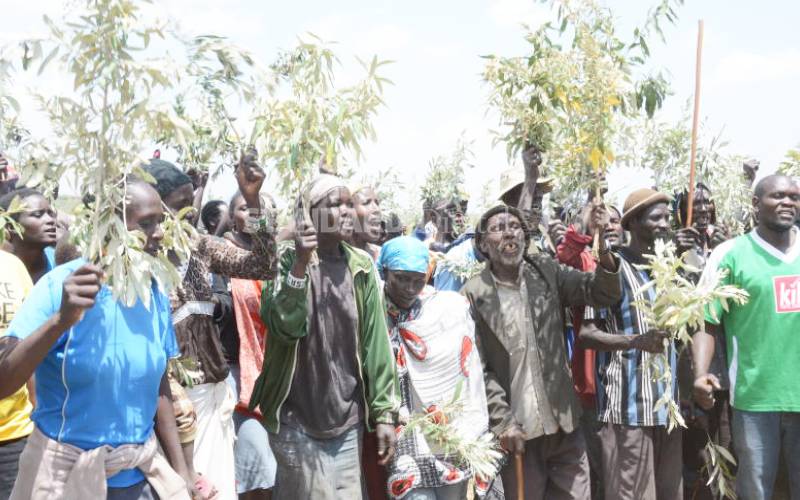 Anxiety has gripped tens of families living in the vast Kedong ranch in Naivasha after they were ordered to move out by today. The families, mainly from Turkana community, have been ordered to vacate the 1,000-acre land that was recently acquired by Akiira Geothermal Ltd (AGL). Plans to evict the families last month did not materialise after they sought more time from the management of the ranch to sort out the issue of their resettlement. The move comes a couple of days after Nakuru County Commissioner Erastus Mbui visited the area and ordered the families out.
SEE ALSO: Hospital moves in to dispose twenty bodies
The geothermal company is in the process of constructing a multi-billion shilling geothermal plant on the land and has sought Sh9 billion from financiers. Naivasha Deputy County Commissioner Mbogo Mathioya confirmed the planned eviction. Speaking during the tour, AGL spokesman Anthony Kahindi said the squatters were frustrating the firm's exploratory drilling. But according to the victims' spokesperson Justus Ekeno, a majority of them had worked in the ranch for years and knew no other home.
Resettlement criteria
Mr Ekeno wondered what criteria was used to resettle members of the Maasai community on a nearby piece of land.
SEE ALSO: Two years later, locals sleep easy as guns go silent
"We feel that there is injustice in the manner that this eviction is been carried out as some communities have benefited while others have been left out," he said. He said the eviction would have adverse effects on the livelihood of the families, adding that they were keen to engage the State and the management of the ranch. Kedong has already donated 4,000 acres to members of the Maasai community who have been affected by the construction of the dry port and industrial park in Naivasha.