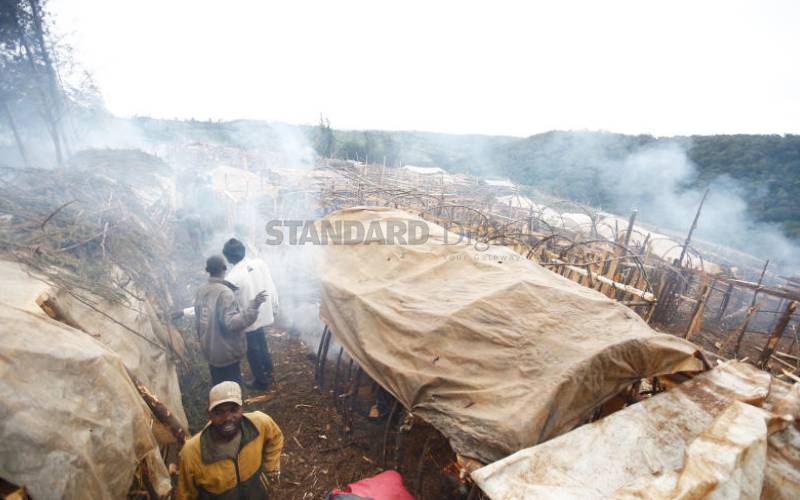 Rift Valley leaders have identified a 24-acre parcel in Tendwet, Narok South Constituency, where some of the 10,000 families evicted from the Maasai Mau Forest will be temporarily settled.
Kericho Senator Aaron Cheruiyot said families that moved out of the 17,101 acres that was declared Government forest and have nowhere to go would be given priority.
"The land will be used to temporarily shelter Mau evictees who are in absolute distress and don't have alternative land," Mr Cheruiyot said at Chelilis AIC in Kericho County.
Sources said a group of Rift Valley leaders raised funds to purchase land to resettle the most vulnerable.
It is not clear how much money has been raised towards the initiative, but it appears the leaders have given up hope of the Government resettling evictees.
An MP told The Standard the move to raise funds to settle evictees was arrived at after wide consultations and to avoid political backlash.
News of the land being bought by the leaders came just a day after the State sealed the fate of the settlers ordered out of the forest by planting some 10 million tree seedlings on the land they previously occupied.
Urging Government
The political class in the region has been urging the Government to compensate or offer the evictees alternative land.
Yesterday, Cheruiyot and MPs Kiptergech Mutai (Bureti), Brighton Yegon (Konoin) and Florence Bore (Kericho Woman Representative) called for immediate arrest of all Government officials involved in the demarcation and allocation of land in the Mau Forest complex.
They claimed the settlers were duped into buying land that belonged to the State and that someone needed to be held accountable for that.