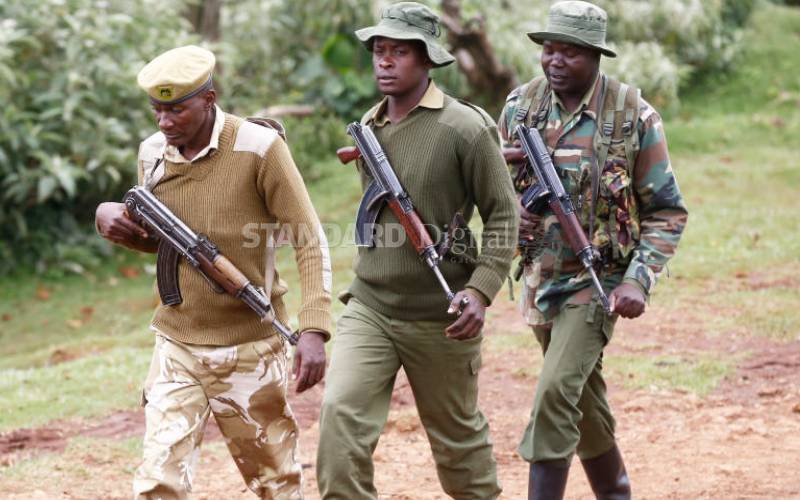 Heavy presence of anti-riot police on the streets of Bomet town caused tension on Saturday among traders. Some business owners closed shops, fearing confrontation between the police and youth who had planned a rally over the Mau Evictions. Despite calling off the prayer rally which was to be attended by South Rift politicians at Bomet Green stadium, the town was a no-go zone as police were deployed. Standing in groups was prohibited by the police who took over the own for the better part of the day.
SEE ALSO: Pain of eviction from Mau returns to haunt the Ogiek
Bomet Central Sub County Police Commander Musa Omari Imamai said the deployment was precautionary. "It is normal patrols over reports we had about a prayer rally which had been banned and we did not want to leave anything to chance," he said. Imamai said the highly publicised rally which had been banned had spread fear and officers were only out to calm tension. "There was fear after word went round that no business would be allowed to operate because of the planned rally." Imamai went on, "It is our role to protect property and lives and no one should fear our presence in the streets." The youth who had called off the rally accused police of creating fear. Victor Rop and Bildad Cheruiyot said after the decision to postpone it was unnecessary to deploy the officers. Rop said, "It is wrong to cause such fear with huge police presence that business owners are forced to close shop." He added that the move to call off the rally was to allow leaders time to find a lasting solution, not out of fear of the police. "We will still hold the rally in future and make our thoughts known to the government that we are unhappy with the evictions," said Rop. The organisers termed as flimsy the reasons by police to ban the rally. The police who had been notified through lawyer Geoffrey Kipngetich revoked the permit for the rally, claiming it was exam season and such a meeting may cause a breach of peace. Bomet County Commissioner Geoffrey Omonding said it was exam season and rallies are prohibited.