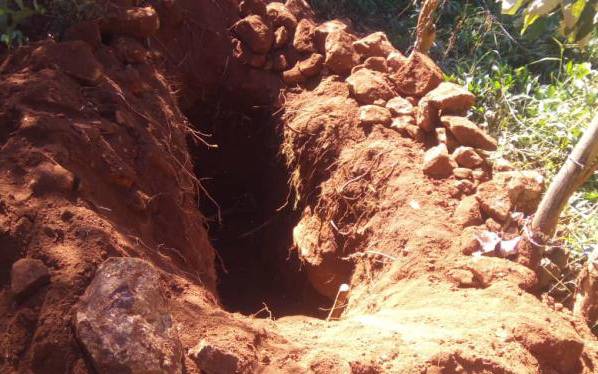 A 27-year-old man was arrested today after he was found exhuming the body of his father at Maseno Village in Subukia, Nakuru County.
Nakuru Police Commander Stephen Matu said Patrick Mwangi Katonya wanted to retrieve a pair of shoes that was part of his father Johnson Ndonye's dressing when he was buried in 2005.
The police officers and members of the public pounced on Katonya at 8am while digging up the body.
Matu said Patrick explained that he wanted to sell the leather shoes as they would fetch a tidy sum.
Read More
However, the pair of shoes according to the police was in a bad shape.
"The suspect told the police that he wanted to sell the shoes. He waited for members of his family to leave the home before exhuming the body but the shoes were rotten," said Matu.
Police arrested Patrick and ordered that he be taken for psychiatric evaluation before being charged for disturbing the dead.
The police boss said: "It is wrong for anybody to exhume the dead. Such can only be done if permission is granted by a court of law. Investigations have, therefore, commenced after which the suspect will be arraigned".
Matu said Ndonye's family requested officers to allow them to conduct prayers before reburying the body, as it is a taboo to exhume the dead.
"Police are liaising with the family and the church to rebury the body. The family requested us to allow them time to conduct some prayers and cleansing," said the police boss.