Showdown looms as State moves to evict Mau settlers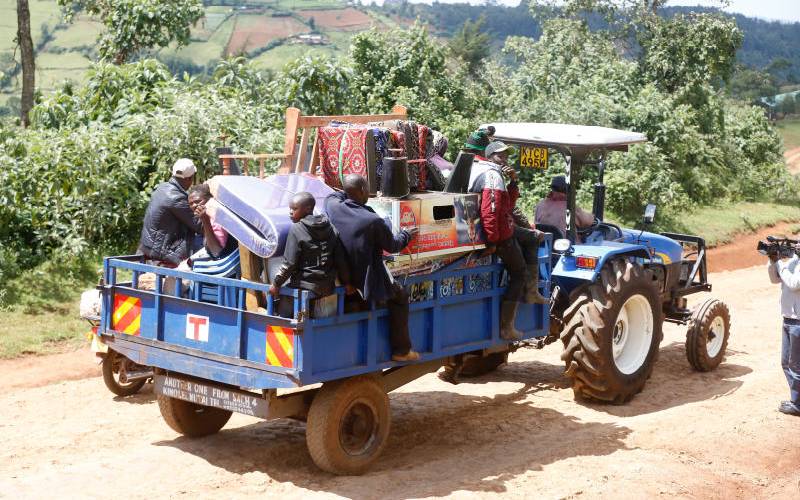 Hundreds of families were yesterday leaving the Mau Forest Complex ahead of the planned eviction of settlers.
However, some of the settlers defied orders to vacate the water tower, setting stage for a showdown with police officers who have already been deployed to the area to oversee the exercise.
Some local leaders have also opposed the planned evictions and called for dialogue.
Tension has gripped the settlers since Environment Cabinet Secretary Keriako Tobiko directed that they leave the forest.
The CS ordered the land to be cleared of human settlement immediately, because it forms a crucial part of the water tower.
The evictions target about 10,000 families occupying approximately 17,000 acres of forest land.
Some families fearing forcible evictions camped at Tendwek centre, a few kilometres from Sierra Leone in Narok South, where some of the evictions are expected to take place.
Hundreds of security personnel who arrived in the area on Sunday evening, have also sealed off 15 schools that were declared illegal.
Not access
Yesterday, some 4,000 learners could not access primary schools that were put up by the Government at a cost of Sh40 million between 2011 and 2016.
The Standard counted about 100 policemen in five police vehicles stationed around Sierra Leone.
The armed regular officers were stationed at Koitabai Primary, Chebirbeleek, Sebetet, Noosagam.
They turned away the learners, informing them that there are no schools in the area.
The children seemingly had heeded calls by some Rift Valley leaders, who on Sunday told residents to ignore the Government's order asking pupils to stay away from the shut schools.
Officers were still patrolling the area yesterday evening, as residents met to plot their next course of action.
But these were mainly lamenting sessions, attended by elders, some of whom their families had already fled.
The officers took positions in Koben, Ilmotiok and Ololunga, Enokishomi, Enoosokon, Nkaroni and Sisian villages while Kenya Forest Service (KFS) rangers secured routes into the forest.
"Do not in any way engage the security forces. These are men and women who are here to enforce the law, ensure order and keep us safe. There is no place for violence," Rift Valley Regional Commissioner George Natembeya told The Standard on Monday.
He told the families to "act responsibly" even some made it clear that they would not leave their homes, saying the land they occupy is trust land under the management of Narok county government.
Josephat Bosuba, a father of three, is among those targeted for eviction from Sierra Leone trading centre.
"I have decided to move my family to a safer place. I do not want my children to be injured when the eviction starts. The police deployed here have instilled fear in people. I'm planning to erect a tent by the roadside and stay with my children," said the 21-year-old father.
Just like the rest of the settlers, he suspects that the eviction will be violent. "They will burn our houses and destroy property just like in 2018 where houses were torched during the first phase of eviction," he said.
To him the land he occupies is private property and to confirm this, he takes out a brown envelope, opens it and removes a title deed.
"How will I know if this title deed is genuine or fake. I got it from Government offices after successfully applying for it using documents given by surveyors and other land officers," Bosuba said, waving the document in our faces.
We encountered a group ferrying their household good using donkeys.
Their children watched innocently as the journey to an unknown location began.
Vincent Kibet had packed his household goods on a hired tractor.
He ignored us at first but after we introduced ourselves and stated our mission, he stopped to listen.
"What do you want me to say?" he asked.
He said he was moving his family to a safer place – that is Tendwet trading centre – some three kilometres away.
"I just want to get out of the way of the security forces, secure my household goods because these people are of no good intention," Kibet said.
Some villagers who had gathered around quickly disperse at the sight of security personnel patrolling the area.
Some rowdy locals shout at the officers, accusing them of being the cause of their problems.
Erick Kibet said KFS and the other security officers deployed in the area were harassing them.
Yesterday, Elgeyo Marakwet Senator Kipchumba Murkomen told the evictees to stay put, saying "there will be no eviction from Masai Mau Trust Land until President Uhuru Kenyatta speaks."
"CS Tobiko who is conflicted has no moral authority to evict people against the law. We have asked Kenyans to stay put and our children to go to school like children of all other Kenyans!," he tweeted.
Hezekiah Kimutai, one of the people affected, said the Government should forget about Mau because no one has encroached the forest.
Sagamian ward rep Wesley Koech whose area will be affected by the eviction, said they are not leaving and the movement seen was a move to secure property.
Koech accused the Government of frustrating its people and called on President Kenyatta and his Deputy William Ruto to intervene.
He said innocent people were being evicted from land they had legally acquired.
He said Uhuru during his visit to Narok had promised to build schools and it was a shame that the same were being termed as illegal. "We should be told whether this was a ploy to get votes," said Koech.