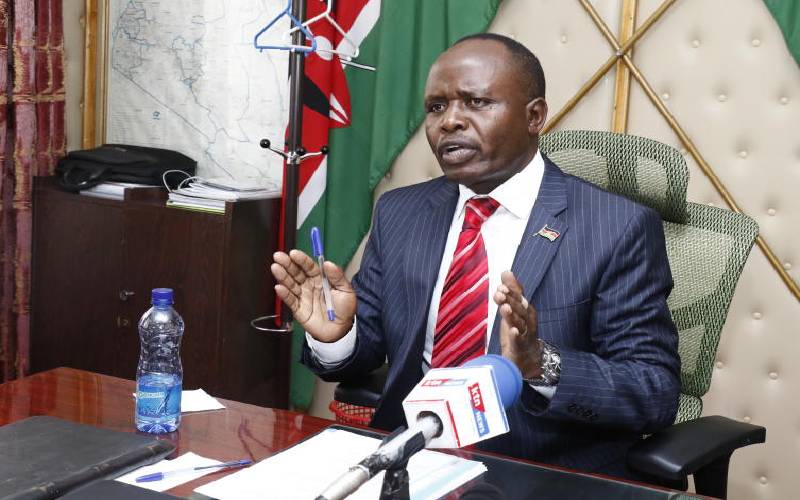 The Government is working round-the-clock to ensure the national census goes on uninterrupted in the Rift Valley.
Regional Coordinator George Natembeya said more police officers have been deployed to the counties to beef up security during the exercise that will start on August 24 and end on August 31.
The counties include West Pokot, Turkana, Elgeyo Markwet, Baringo, Laikipia and Samburu.
"We will provide adequate security to people living in areas that report high cases of insecurity attributed to cattle rustling. Nobody should have fears of being attacked," said Mr Natembeya.
He said the police would work closely with chiefs, assistant chiefs and elders to ensure the exercise is a success.
Natembeya said the local administrators understand the terrain in their localities and are best suited to assist the enumerators.
"Chiefs and elders will help in collecting accurate information required by the government. They will ensure the officers conducting the census reach out to all locals in their areas."
Stolen cattle
Natembeya also said that after the census is concluded, security agents would launch a synchronised operation to restore law and order, beef up security, recover illegal firearms and stolen cattle, and arrest suspected cattle rustlers.
"Although we have finalised plans on the operation, we will have to wait because the same officers have been assigned to provide security during the census," he said.
According to the administrator, all entertainment venues are expected to close this Saturday to allow everyone participate in the exercise, which is aimed at capturing data required by the State for better planning.
He warned that anybody found disrupting the exercise would be arrested and charged.
Natembeya also asked the public to contact the police if they were threatened or stopped from participating in the census.
"All we need is co-operation from members of the public and a conducive environment for the census to be a success. Everyone should ensure they participate in the exercise," he said.
Meanwhile, chiefs and assistant chiefs in Laikipia County have been lauded for helping police to stop herders from grazing their livestock in private farms in an ongoing operation to flush out the trespassers in Laikipia North and Laikipia West.
Rumuruti Sub-county police commander Molu Kotobo said the local administrators have been assigned strategic locations where they have been keeping vigil for the past two weeks, in a mission aimed at preventing conflict between farm owners and herders.
Illegal grazing
The illegal herders, according to police reports, are from neighbouring counties including Marsabit, Isiolo and Samburu. They are searching for water and pasture for their livestock.
Mr Kotobo said intelligence had revealed that some herders transport their livestock in lorries to graze in privately owned farms.
In May, the Government deployed officers from the General Service Unit and Anti-Stock Theft Unit to secure private ranches in the county after hundreds of cattle and camels were driven into the region.