Farmers: Don't import, we have enough maize
RIFT VALLEY
By Titus Too | Jul 14th 2019 | 3 min read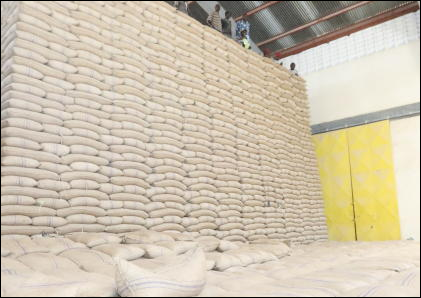 Farmers in Rift Valley have dismissed claims of hoarding maize occasioning grain shortage.
They say they have maize in their stores, accusing the state of putting bottlenecks in the purchase of the produce early this year.
They told Sunday Standard that stringent vetting, regulations and delayed payments frustrated maize farmers from delivering produce to National Cereals and Produce Board (NCPB). They blamed the State for turning away hundreds of farmers had already who lined up to replenish the Strategic Food Reserves (SFR).
It comes as a section of farmers criticised government plans to open a window for duty free importation of 12.5 million bags of maize from end of July.
There are claims the State only bought 417,000 bags of maize in last year's harvest against a target of 2 million bags directed for purchase by President Uhuru Kenyatta.
"I produced 25,000 bags of maize last season but was only allowed to deliver 400 bags to NCPB after filling a vetting form.
"We had accepted government price of Sh2,500 per 90kg bag but were turned away due to vetting conditions," said Paul Marus, a large scale farmer in Uasin Gishu.
He said he was forced to sell some maize to middlemen and millers at low prices and he is still left with about 800 bags.
The farmer noted that prices of maize fluctuated in the informal market from as low as Sh1,700 in the beginning of the year to about Sh3,300 in June and most farmers frustrated by government vetting and those who feared delayed payment had to dispose to alternative markets at low price.
The farmer also claimed that the government still owes him Sh69 million in last season's supplies to NCPB.
"I am yet to be paid Sh69 million for maize supplies to the government in 2017 harvests. I had acquired a loan of Sh45 million from Agricultural Finance Corporation (AFC) and another Sh15 million from a commercial bank and interest is accruing. My profit out of this is only Sh6 million," he said.
Other farmers Christopher Kiptum and Tom Korgoren also said their colleagues who toiled to produce maize were locked out by NCPB.
"Producers were demoralized and most of them withdrew from queuing outside NCPB depots and sold produce to traders at throw away prices.
"Some offloaded the produce after prices rose to Sh3,300 per 90 kg bag last month," said Kiptum.
He said majority farmers retained stocks for their own consumption and resorted to growing potatoes and beans.
Remained closed
Sources at NCPB admitted the stringent vetting frustrated farmers but hinted 'there is no serious shortage' of maize.
A source who sought anonymity said there is enough maize stocks compared to 2017 when the state was prompted to resort to importation.
"Millers who have been buying from traders for as high as Sh3,000 are currently buying from NCPB at Sh2,300 but shelf prices of flour are yet to drop," noted the source.
The source also indicated that SFR was only bought in Ziwa, Eldoret and Moi's Bridge depots in last season's produce while NCPB stores across the North Rift remained closed due to shortage of gunny bags thus the 2 million bags target was not attained.
Mr Samuel Yego, the Uasin Gishu County Executive for Agriculture is in agreement with farmers that there is no maize hoarding in the region.
"Most farmers who were frustrated after being locked out by vetting and quota allocation offloaded produce to the market at low prices. Uasin Gishu was allocated a quota to supply 328,000 bags each of 90kgs but most farmers were barred by vetting requirements," said Yego.
Yego added: "Maximum limits for maize supply to NCPB were set for every ward, with some farmers in high potential regions restricted to delivering only 100 bags thus demoralising farmers who resorted to selling produce to the informal market".
NCPB Corporate Affairs Manager Titus Maiyo told Sunday Standard yesterday that 417,000 bags of maize were bought in the 2018.
He said the board had four million bags in the SFR of which two million was committed for sale to millers.
"Of the two million bags, millers have paid for 1.24 million bags and collected 982,000 bags while another 760,000 is yet to be bought," said Maiyo.