Report shows Naivasha inmate was tortured to death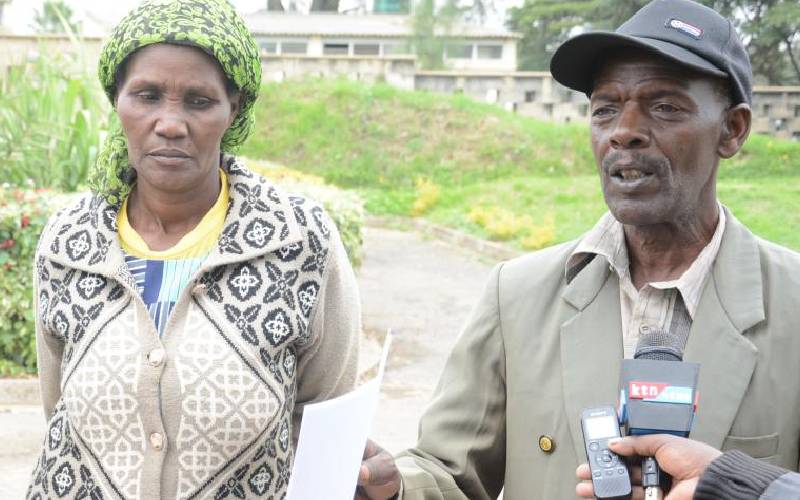 An inmate at Naivasha prison who last week died under unclear circumstances was tortured to death, according to a postmortem examination report.
The test carried out by Government Pathologist Titus Ngulungu on Simon Nduro Gitahi cited bruises inflicted on various parts of the body, citing blunt objects as the main causes of death.
This differs sharply with a report by the prison department that cited acute asthma as the cause of death.
The result came as Kenya National Commission on Human Rights (KNCHR) joined the investigation and promised to release its report in two weeks.
Nduro's body was taken to Naivasha sub-county hospital mortuary on Saturday last week after he died in prison.
Fellow inmates, who managed to pass information of his death to his parents, alleged that the 36-year-old, who was serving a life sentence, was beaten by eight warders. The prison department denied the claims.
In his report, Dr Ngulungu noted that the inmate had bruises on the lower back, hips, hands and neck inflicted by a blunt object.
The report further indicated that Nduro's liver and lungs had collapsed due to complications caused by the injuries.
Addressing the Press at the hospital's mortuary yesterday, KNCHR Central Regional Coordinator Ruth Getobae said they had witnessed the postmortem examination.
She said the pathologist was very clear that the inmate did not suffer from asthma, as alleged by the prison.
"The pathologist was clear that the injuries that led to the death of Nduro were caused by a blunt object mainly at the back," she said.
She added that they would be visiting the prison to collect more information over the incident before releasing their report.
"We are headed to the prison to see the medical reports which claim that the inmate was suffering from asthma, as part of our investigations," she said.
Nduro's father David Gitahi vowed to go to court.
He said his fears had been confirmed, adding that the Prisons department had taken him round since his son died.
"I thank the pathologist who was very open and candid as he has revealed that my son was killed through beating," he said. Gitahi added that they would bury Nduro in a public cemetery in Naivasha as the family did not have land in their rural home in Nyahururu.
The inmate's mother Mary Njeri said Nduro was the sole bread winner of the family before he was jailed.
"I leave everything to God and it is very painful to first lose your son by being jailed and later being killed by people who were supposed to reform him," said Njeri.
Last week, Prisons Director of Operations Duncan Ogore said the inmate suffered from asthma and that his condition had deteriorated, leading to his death.