Police step up search for governor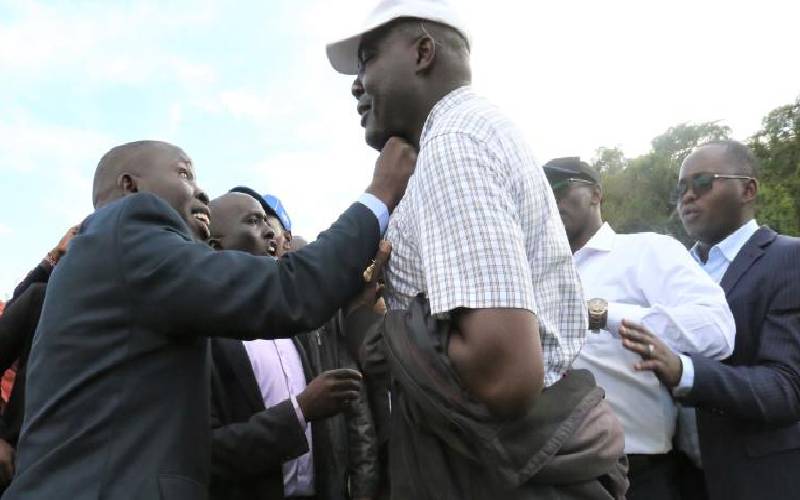 Police have arrested three people and are pursuing Governor Stephen Sang over the destruction of a tea estate in Nandi.
By yesterday, the whereabouts of Sang remained unknown and he could not be reached as his phone remained switched off.
Five members of the county assembly, including Leader of Majority David Koech, and two members of Sang's Cabinet are reportedly among those being sought.
Police want Sang to explain his role in the destruction of tea bushes at Kibwari estate on Friday and Saturday. Sang has claimed that the four-acre plantation, which is managed by a multinational tea company, was grabbed from the community.
And yesterday, five MCAs and Nandi Senator Samson Cherargei distanced themselves from the governor's actions.
Kapchorua ward representative John Kebeney and two county drivers who drove backhoe bulldozers that were used to dig up the tea bushes spent Saturday night at Nandi Central Police Station.
County Commissioner Samuel Kimiti and Police Commander Thomas Ngeiywa confirmed that they were looking for the county chief for invading private property and for destroying over one acre of tea bushes.
The two security chiefs also said the governor led a group that assaulted and injured an employee of former Tinderet MP Henry Kosgei.
"Our security apparatus are at work and all individuals who were part of the Kibwari Tea Estate invasion, including the Nandi Governor, will be arrested. The governor is not above the law and is not at liberty to invade private property and cause destruction," said Mr Kimiti.
Mr Ngeiywa said: "At least 2,500 tea bushes in about one acre of the estate were destroyed and one individual injured in the invasion. The police prevented more planned destruction on Saturday."
Sang had stormed the tea plantation armed with a power saw while a bulldozer was used to uproot the tea bushes as residents joined in. Police have impounded two bulldozer that were used in the invasion.
Sources hinted that security agents had issued an alert at the Eldoret and Kisumu airports in case the suspects attempted to flee.
Abandoned vehicle
Sang, who was addressing Nandi Hills residents at the tea estate on Saturday, cut short his speech, abandoned his official vehicle and fled into the bushes when he saw the police.
The governor later hitched rides in a saloon car and on motorbikes as he headed towards Chemelil to evade arrest. Police said Sang escaped through one of the four murram roads that divert into the expansive tea plantations in the highlands area.
During the invasion, Sang claimed that the estate's owners had seized public land set aside for a community project.
"Four acres of land under the tea was grabbed from the community in 2003. The white man had surrendered it to the community in 1980 towards the construction of Kaburet cattle dip where members of the community contributed resources."
But the invasion could also lay bare the political rivalry between Sang and Kosgei, the former Industrialisation minister whose family members are among directors of the tea estate.
Mr Kosgei's son, Allan, who addressed the media on behalf of the estate's owners, read malice in Sang's actions and described it as a political vendetta.
"This is criminality; this has nothing to do with fair land reclamation exercises. This is more like an attack on the Kosgei family," said Allan.
Sang and the senior Kosgei have been political arch-rivals since the 2013 General Election when Kosgei contested for the Nandi senatorial post on an ODM ticket but lost to Sang who was vying on a URP platform.
Kosgei, who relinquished his ODM chairmanship following bungled party elections, sought the Nandi gubernatorial seat on a Jubilee ticket in 2017 but again lost to Sang who was eyeing the same post.
Sang, however, insisted that his intentions were not to go after his political adversaries but rather to reclaim public land.
The former minister has since retired from active politics while Allan has been actively traversing the county and participating in community development initiatives. He is yet to state his political intentions.
"County actions cannot be applied selectively against a specific section of the population. The Kosgei family are fair investors in the county as any other business people and county residents, and deserve fair treatment," said Allan.
He revealed that the Eldoret and Nairobi High Courts were yet to determine two cases touching on the ownership of the disputed land, and advised Sang to wait for the courts to determine the matter.
Mr Cherargei, MPs Alfred Keter (Nandi Hills), Julius Meli (Tinderet), Vincent Tuwei (Mosop), Wilson Kogo (Chesumei), Cornelly Serem (Aldai), and County Speaker Joshua Kiptoo, who had attended a function at St Barnabas ACK in Kapsabet town, condemned Sang's actions.
Cherargei and Mr Tuwei accused Sang of being 'drunk with power' and of using the matter of land issues to go after his opponents.
"It is unfortunate that the sensitive matter of historical land injustices is being used by Governor Sang to go after his political competitors. We as Nandi leaders condemn in totality the selective action to reclaim disputed land," said Cherargei.
Mr Keter called for sobriety in the handling of land issues, saying that Nandi Hills was an investor zone that needed sensitive handling.
"We cannot use goons to harass investors. There are proper legal channels to address land disputes," said Keter.
Tuwei listed over 60 plots at Kapsabet headquarters that had been marked as grabbed by the county administration, noting that their reclamation appeared to have been shelved.
The leaders also accused Sang of attempting to divert the attention of residents from tough questions on corruption that had been raised against his administration in the past month following the theft of county construction materials.