Row as bid to regulate sand trade in Laikipia flops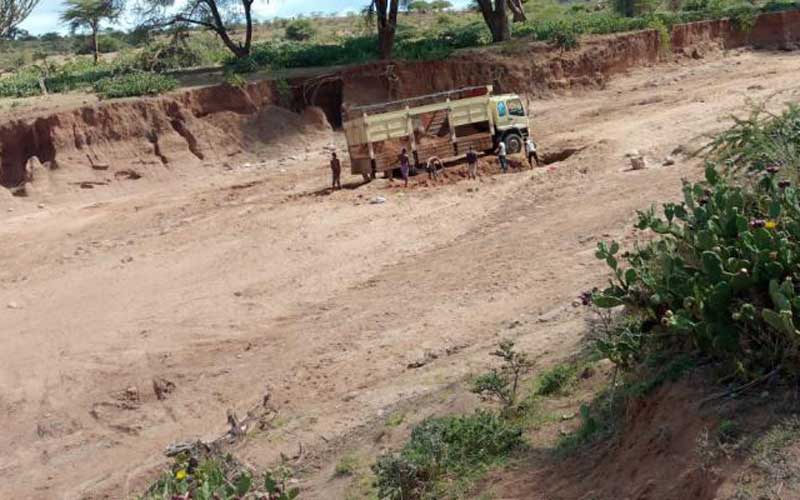 The economic boon associated with sand in Laikipia may soon disappear if wrangles pitting locals agains their leaders as well as traders will not dissipate.
At the centre of Laikipia sand wars is longstanding unruliness, with community members complaining over lack of transparency. On a good day, a single group ranch makes about Sh300,000 but the cash ends up in the pockets of handful individuals.
It is estimated that the business earns five group ranches nearly Sh200 million in a year while the county government gets Sh60 million and a sand cooperative society collecting Sh85 million.
For over 40 years since the communities commercialised sand harvesting, there has never been laws guiding the lucrative business leaving the intended beneficiaries grapple with abject poverty.
Even attempts by the local County Assembly to introduce Sand Harvesting and Quarrying Bill to regulate the business and remove the trade from the tight grip of cartels has faced a harsh objection from those who have held it as their 'cash cow'.
Recently, a public participation held in Doldol nearly aborted after unruly locals stormed out of the meeting hall demanding to have the MCAs disregard the bill. Those who are opposed to the proposed law claim that there is a 'silent plan' by the county government to take over the business.
Laikipia North residents are now divided between those protecting the sand and those harvesting it for money. Manasseh Matunge a member of Kurikuri Group Ranch said the income should translate to development projects but little money trickle down to the manyattas that dot the expansive region.
He is among those supporting the legislation which seeks to empower them by granting them a bigger say in the business. "The business earns a lot of money but it only benefits a few people. The income from the business cannot match the development projects in this place. Sometimes we have to beg them to disburse money for bursaries."
"The officials never account for this money and whenever we ask for documents to show how the money has been distributed they dismiss us saying that the documents belong to them and even worse local law enforcers will never help us get justice," said Matunge.