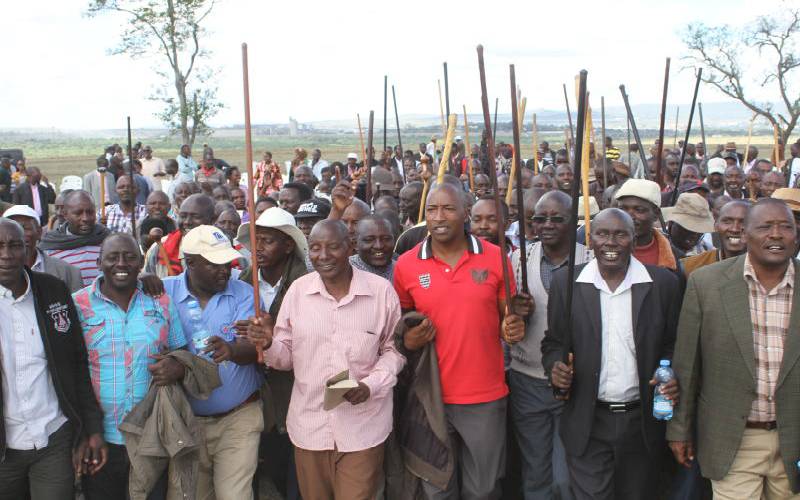 Trouble is brewing in Kitengela, Kajiado County over ownership of a prime piece of land in the border of Machakos and Kajiado Counties.
Empakasi Oo Lera Trust group and Kajiado, Maasai Empakasi Community Group Ranch, claim right to the land.
The 2,900 acre piece at the edge of Nairobi National Park was used for livestock breeding by the State until 1936 when it reverted it to locals.
It was to be a multiplication farm for sheep and goats and, holding ground before taking them to collapsed Kenya Meat Commission for slaughter.
Read More
Empakasi Oo Lera Trust group, Chair James Turere, yesterday said the Government allowed natives to duly occupy the land.
"This group has been following the outlined government procedures to acquire the land, we are shocked a sprinter group is claiming ownership," said Turere.
"The National Land Commission in 2014 recommended that the land be reverted to natives."
His almost 3,000 members appealed to the State to hasten the process of issuing them individual title deeds.
But this is not sitting well with the Maasai Empakasi group led by Rev Jonathan Leliah, (chair) and Nchorus Matiko (secretary) who insist the land is theirs.
Rev Leliah, said that the land was originally within the Maasai reserve as proclaimed in the Native Trust Ordinance and the Kenya Gazette number 394 of December 3rd 1926.
Matiko claims that in 1981, they were allocated 6,000 acres while the Government took 2,912 acres for public good.
"We are the legitimate owners of this land, the other group is made of outsiders," said Matiko of the land, a subject of historic land problems.