Hard times ahead as rains fail in Kenya's food basket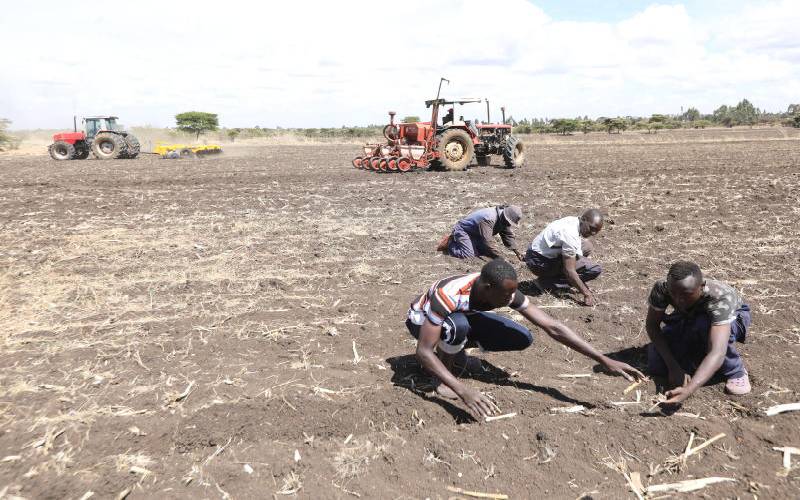 The spectre of another food crisis is looming following erratic rains in the North Rift-the country's food basket.
Already, desperate farmers in the region have given up on replanting after the simmering heat wiped out entire crops planted in readiness for long rains, which failed.
Many now say they cannot afford to replant.
Long rains
Long rains normally start from mid-March in the region, and most seasoned farmers embark on early planting to achieve good yields at the end of the season.
The rains have, however, either failed entirely or only come in light showers barely enough for planted maize to sprout. As a result, many farmers are now opting to skip replanting and wait to see if rains will intensify later this month.
"The rains in the current season have not been consistent and some farmers are continuously replanting due to crop failure as a result of drought. We are yet to do a survey to ascertain the extent of failure in the county," said Samuel Yego, the county's Agriculture executive.
Yego predicted a drastic drop in maize harvest at the end of the season, acknowledging that thousands of farmers had given up on replanting due to financial constraints. "It's a real challenge," he said.
David Chepsiya, a maize farmer in Moiben, has replanted 300 acres after only 10 per cent the maize he planted sprouted. He said replanting meant incurring double costs of inputs, labour and operations. "I planted 308 acres of maize on March 15. It rained heavily but only for one day. The maize that germinated later dried up, leaving only 10 per cent of the crop sprouting. I had to buy fresh input and re-plant," he said
Julius Keter, a maize farmer from Nandi, said he had replanted his entire three acres due to uneven germination.
"I did dry planting on April 20, but there was uneven germination in parts of the farm while the rest just dried up," he said.
He expressed fear that he might be forced to replant for the third time because the rains were still uneven and uncertain.
Kimutai Kolum, another farmer, has replanted 30 acres after the first crop failed. He now waits to see if the rains will be more consistent and heavier.
Other farmers say they have reduced the acreage for maize farming due to the erratic rains.
"We have been planting 100 acres of maize annually but inconsistent rains have prompted us to reduce to 50 acres. We are considering planting wheat if normal rains drop later this month," said Ruth Kemboi, the Kenya National Federation of Farmers, Uasin Gishu branch chairperson.
The prolonged drought has caused renewed calls on the Government to introduce an insurance scheme to cushion farmers from adverse weather effects.
"We toil a lot in producing food, let the Government introduce an insurance scheme to cover us in case of losses and adopt policies that will encourage local production instead of spending heavily on importation," said Christopher Kiptum, a large-scale farmer.
Cholera scare hits school
100 pupils and teachers at Chetoto Primary School were on Tuesday morning taken to hospital after a suspected cholera outbreak.