Turkana family survives on roasted camel skin to stay alive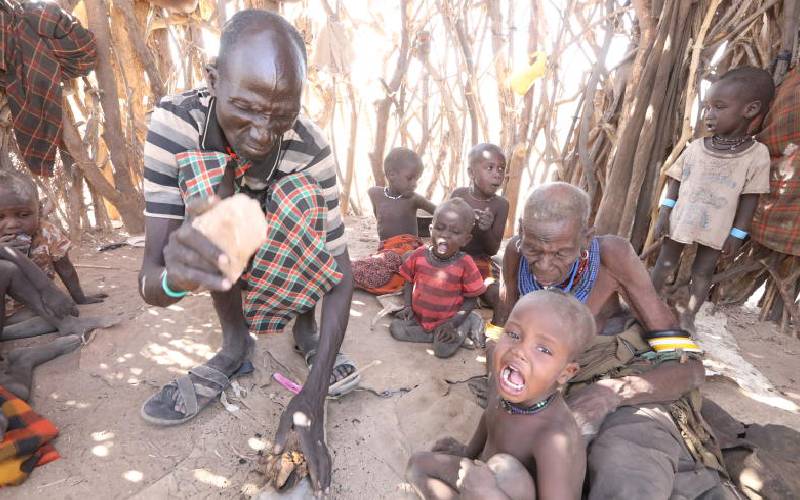 Kapong village appeared deserted on the scorching hot afternoon that The Standard team visited.
Two huts stood desolately and only a few livestock could be seen in the area in Lochwa location, Turkana South constituency, and whose residents are predominantly pastoralists.
After making a few inquiries, we realised Ang'emoi Lochoro was in one hut, while his mother Nakiri Lochoro, and six children; three of them his and the others from the neighbourhood, were lying on the floor of the other hut.
Excited by the unexpected company, the children ran outside to greet us, but Nakiri, who was too frail to do much else, could only raise her head.
Ang'emoi shuffled out of the other hut and ushered us in. A piece of dry hide was burning on the fireplace and Ang'emoi turned it over a few times as though he was roasting fresh meat.
Minutes later, the 40-year-old villager explained that he was roasting a camel hide for the children and his emaciated mother, who, he said, had not eaten since the previous day.
"My last camel died about two weeks ago from starvation and lack of water. The hide you see me roasting is the only food I can give the children and my aging mother. The children have not eaten anything since yesterday morning. They slept on empty stomachs last night."
Locust infestation
Ang'emoi said his goats started dying in January after drought rocked the area, a situation worsened by a locust infestation that cleared the little pasture that remained following the prolonged dry spell.
To make matters worse, he said, his two camels, which were his family's main assets, starved to death.
"I am now left with two goats that I have moved 20km away from my village. It is my hope that it rains as soon as tomorrow so that my two goats survive this drought," he said, adding that his children had not gone to school this year for lack of food.
After he finished roasting the hide, Ang'emoi cut it into small pieces and carried it to the hut where the children and their grandmother lay.
There, he used his teeth to tear the hide into even smaller pieces and started feeding the children whose ages ranged from three to eight years.
Despite chewing the hide for several minutes, it was clear the children were having difficulties swallowing it.
"They would have swallowed more had we had water," Ang'emoi said.
Ang'emoi's wife, Apaigwang Lochoro, had left early in the morning to collect relief food delivered by the Turkana County Government at Nareeng'emunyen Primary School, about 12km away.
She had returned by 3pm when her husband was preparing the roasted hide lunch.
Ang'emoi expressed fear that the two-kilogramme of relief maize he expected his wife to deliver would only sustain his family for a day.
Nakiri said she had pinned her hopes of surviving the drought on well-wishers.
"I am staring at death. At least my grandchildren still have a future. Relief food has not reached this village for more than a year," the 75-year-old woman said.