National Game Reserve bows to pressure as locals encroach, demarcate and fence it off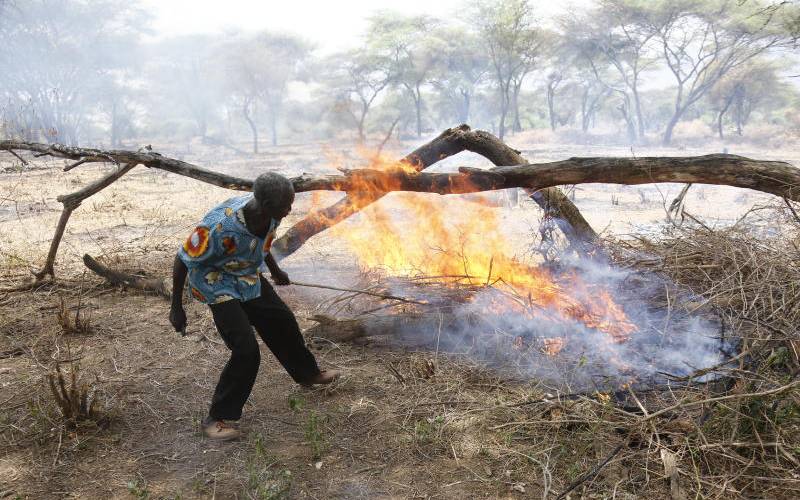 A decade-old tree hangs precariously as it burns from the roots, the fire slowly smoking life out of the tree that houses tens of nests.
Around the giant tree on the verge of falling are numerous other humongous trees lying on the ground as fire slowly makes a heap of ashes out of them. Hovering above the wafting smoke are eagles crying from a distance, perhaps raising the alarm that no one seems to listen to.
This is the scenario at Lake Kamnarok National Reserve in Baringo County, and the blaze is far from the usual forest fire. It is part of efforts by people encroaching into the game reserve to secure virgin forest land for settlement and other human activities.
Hundreds of illegal settlers have camped here, preparing chunks of the vast 87.3 square-kilometre game reserve for planting as they drive out wild animals. They set fire to trees, fell them and reclaim riparian land at any cost.
"It is like gold rush, everything seems to be at a throw and everyone seems to be clearing as much as they can. Look at the trees, the nests spewed all over, the fire clearing the bushes and no authority is yet to utter a word," says Joshua Lokuol, a resident.
Heaps of dry elephant poop and foot prints of their gigantic footsteps cannot scare the forest scavengers away, instead, it has become an indicator that more patches should be cleared to drive them out. Gazelles are a source of free food, one only needs to aim, shoot, and roast and chew their fatigue away in the wild after a lengthy day of land preparation.
"It is like they want to drive out the wild animals completely to Rimoi National Reserve that is why they are setting more patches on fire whenever fresh animal foot prints are seen. Sadly, this is a breeding ground, and an extensive ecosystem to the neighbouring Rimoi," Lokuol says.
Lokuol is part of the community that donated land to the government for the game reserve, gazetted in 1983. The area was a breeding ground for elephants traversing the Rimoi-Kamnarok ecosystem.
"Where they have just started clearing now is part of the land that I donated. It was a community land and we all agreed to donate it for purposes of conservation of our elephants. That time, everyone who had land was allocated a parcel elsewhere, outside the reserve," he says.
"This reserve was a resting place where tens of elephants spent their nights. Things however changed in the 1990s when illegal encroachers started constructing houses," Lokuol recalls.
Lokuol was also part of the committee tasked to ensure everyone had land outside the protected area after the 1983 gazettement.
No squatter
"Everyone had land outside the gazetted area and no one was left as a squatter," he says.
Musa Sumukwo, another resident, is baffled at the turn of events that has led to wanton destruction of the game reserve.
"River Kerio that drains water to Lake Kamnarok is dry as a result, also impacting on the lake. The remaining batch of the lake is muddy due to siltation as a result of erosion and rampant felling of trees," says Sumukwo.
He says on-going destruction has also fuelled human-wildlife conflicts in the area, which he says might become almost impossible to control.
"People have already cleared the trees and planted crops just inside the game reserve. Two weeks ago, enraged elephants almost trampled on someone in the forest after they destroyed a place where they often spend the night," Sumukwo says.
On the eastern side of the vast game reserve, the second largest home of crocodiles in Africa has been reduced to a grazing field -- thousands of crocodiles struggling for survival in the small muddy batch left.
Lake Kamnarok, an oxbow lake, initially hosted an estimated 20,000 crocodiles, the second most populous after Lake Chad. But now it is on its deathbed. The lake is now a vast green plain with patches of muddy water.
Reuben Chepkonga, the secretary of Lake Kamnarok Land Rights Advocacy Group, is however adamant on the ongoing destruction. He says the government is to blame for failure to amend two boundaries at the lake, compensate those living inside the reserve or give them alternative land and relocate schools.
"We registered our advocacy in 2000 after we realised our fathers who donated the land did not sign any agreement with the government to create the reserve. We are only fighting for our land rights because there are four schools inside the reserve," says Chepkonga.
He said failure to compensate those who living in the reserve has stalled development in the area.
"It has been 37 years of conflicts in the area since the area is restricted. We are in a critical stage that urgently needs to be addressed," he says.
North Rift Tourism Coordinator William Kimosop says Rimoi-Kamnarok ecosystem is an ancient corridor for elephants moving from South Turkana, through Nasalot National Reserve in West Pokot and finally to Kamnarok.
"Elephants transversing these corridors are estimated to be over 1,000. These two reserves play a key role in conservation of elephants," Kimospo says.
He says the current population of elephants and wildlife in the two reserves is stable; however, anything that disturbs the ecosystem will be detrimental.
In 2014, then Baringo Governor Benjamin Cheboi formed a task force to look in to the game reserve's boundary issue so it could pave way for fencing to stop encroachment.
The task force was mandated to collate findings and submit a report to Governor Cheboi with detailed recommendations on boundary, compensation and resettlement of affected households in the reserve.
The report and has however never been tabled in the County Assembly as it was expected, with the 2017 political temperature said to have derailed it.
"The report was supposed to be tabled before 2017 but due to political campaigns, Mr Cheboi said the report would be tabled after elections. This issue is of concern but politics has been in control of it," says County Director of Environment Evans Kandie.