Rundown centre hosts desperate locals, including the chief and police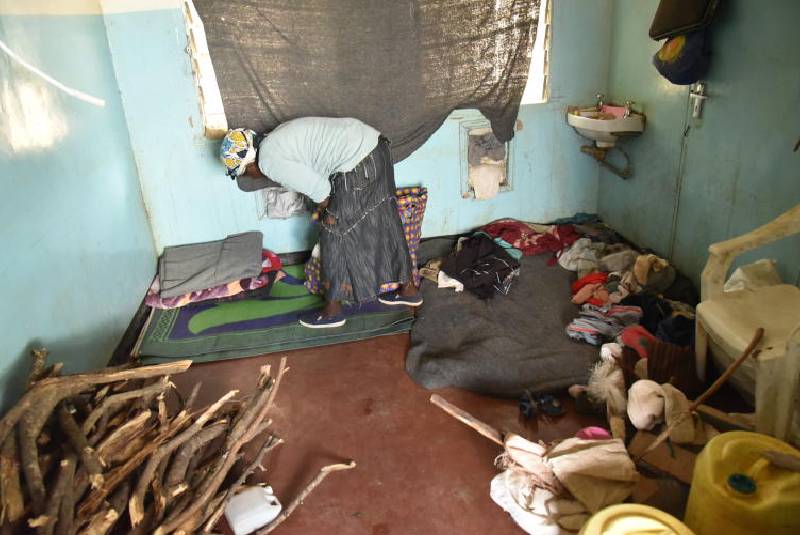 In Mukutani Dispensary, screams are heard. However, they not of patients or expectant mothers but of children playing at the dispensary, a facility that used to offer health services to hundreds of locals.
But now the operating rooms of the biggest health facility in the area have been converted to homes by locals, who live with their families, oblivious of the possible infections they may be exposing themselves to.
The elderly spread mats in the reception area where they rest from the scorching sun, as children play on the empty benches.
The facility, now in ruins, not only hosts tens of desperate locals but also administrators, including the chief, his assistant and Administration Police officers.
Just off the main gate on the right, more than a dozen AP officers deployed to restore security live in a maternity wing, which has been converted into the officers' quarters.
When the Sunday Standard team visited the facility, they met with Joseph ole Kichep and his wife, Rosemary Muthoni, living in the hospital rooms meant for mother-child health.
The family says they moved into the hospital when they failed to get a secure home after they returned from Eldume camp.
"This is our home, we feel secure here because we have nowhere to go," says Kichep.
Kichep was taken ill a month ago, but cannot access healthcare because there is no other hospital in the area.
He appreciates that before they moved out of Mukutani after at least 11 people were killed by bandits in March 2017, the hospital was well equipped and could provide locals with quality care.
Father of 10
He says bandits vandalised the facility and stole medical equipment, that belonged to the facility. The 72-year-old says the nearest facilities are Tangulbei, some 25km away and Marigat, 50km away.
"In the past, I would visit this hospital for treatment, but now, there are no nurses and equipment to serve us. I use local herbs when I get ill. My child has not been immunised and may fall sick," says the father of 10.
Pauline Parklei, another local, has converted shelves at what used to be a pharmacy room to store food. The shelves still bear labels of syrups, tablets, gloves and syringes.
"These shelves used to store medicine but I use them to keep my food because the hospital is not operational. I had nowhere to go and that is why we decided to move here," she says.
Parklei lives in the single room with her two children and husband. She sleeps on the cold floor.
Recently, she was issued with 20 iron sheets to resettle in Lontiani village, her original home, but she fears for her safety. Other rooms converted into living quarters include post-natal, emergency, dressing and consultation spaces.
Ironically, the Kenya Medical Supplies Authority (Kemsa) recently supplied maternity equipment, including an oxygen concentrator and weighing machine, to the institution.
Mukutani Location Chief Benjamin Lecher says Kemsa issued the equipment a week ago.
"I have the equipment from Kemsa; I will continue holding them until such a time when the dispensary will be operational," he says.
The facility was operational until 2017 when suspected bandits raided the area and killed locals, destroying property as well, says the chief.
Lecher says that last week, the government donated iron sheets to victims but they are yet to move out, citing financial constraints.
"A section of locals are not able to raise money to construct new houses and some have mixed reactions about their safety," says the chief.
Access medication
Ivyn Lesepe, a Standard Seven pupil at Mukutani area, has been ailing for the past two weeks. She has a painful swollen leg that affects her learning.
"I cannot concentrate in class because of the pain. I have been using painkillers to ease the pain," she says.
Nixon Lemaitani, a teacher, says it has been a challenge helping pupils to access medication. The school, which has 200 pupils, lacks access to clean water and there are fears of water borne diseases erupting.
Baringo County Health CEC Mary Panga says it is improper to have families live in the dispensary.
Panga says the county government is working to have them leave.
"We have identified two nurses to go work in the area. We are, however, working to ensure the people living there vacate the health facility so that we can have it equipped," she says.