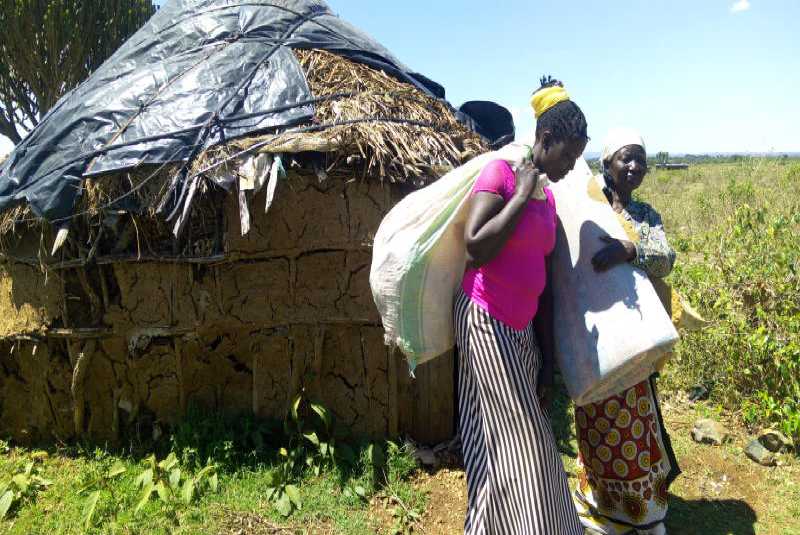 When moving day came for the Amukonyo and Akiru families, it still seemed like a dream.
The residents of Kandutura village in Rumuruti had known no other shelter apart from dilapidated wattle and daub homes whose gaping cracks were patched with black plastic sheets and dry grass.
But that was before Habitat for Humanity came calling.
After Habitat officials assessed the living conditions in the village, the two families were selected alongside 23 other households to be the beneficiaries of a modern housing project.
Read More
When Susan Akiru's mother died in 2014, two years after her father's demise, her life fell apart.
As the oldest child, the responsibility of raising her brothers and sisters weighed heavily on her shoulders. Their poor living conditions made matters worse.
"My younger siblings suffered because they depended on me for everything; school fees, food and security. They were often hospitalised after getting sick from the cold and dust.
"There was no respite during the hot or rainy seasons. When it rained heavily the house would be destroyed by floods, while in the dry season, the walls would crack from the heat and require daubing with water and dung.
The narrative of poverty and poor housing was also evident in the Amukunyo household.
Hellen Amukunyo, 61, had lived with her eight children and her ailing sister for more than 30 years in a manyatta.
It was up to Hellen to figure out where the family would find shelter when their house was flooded during the rainy season.
The school-going children were forced to complete their homework in school so that they did not have to compete for space and a home-made kerosene lamp at home.
So there was much rejoicing when Amukunyo and her family were told that the day had come for them to be relocated.
No movers were needed. The family simply packed their clothes in two sacks, which the children carried, while Amukunyo helped her 80-year-old sister to walk to their new home.
"It is unbelievable that my children and grandchildren will never sleep on sacks on the floor. It amazes me to know that I will never rebuild a hut destroyed by wind and rain," she said.
Akira and Amukonya were allocated two of 19 two- and three-bedroom houses that have been completed.
The houses have the same designs and are painted in similar colours. They also have an indoor toilet and bathroom.
Next to the two women's houses is John Boiyot's spacious three-bedroom home. His wife, Paulina Lochuman, has already draped the glass windows with curtains and furnished her children's bedrooms with beds and mattresses.
Although Mr Boiyot, 90, had managed to build a two-roomed hut where his family lived for more than 35 years, he had to share his bed with three sons in a separate room and leave his wife and children to share the other room.
"This region is dotted with cacti and shrubs and building a house was a challenge because there are no trees. I could not afford to buy and build a modern house," said Boiyot.
Broken chairs
Some beneficiaries, however, have not moved out of their old homes because they do not have furniture; just a few broken chairs and rickety tables. The onus of furnishing the new houses lies with the beneficiaries.
The housing project was started after a 15-member committee from Kandutura village approached officials from Habitat for Humanity and pitched the idea.
"They selected the most vulnerable families for the initial phase. The remaining six houses will be completed in one month," said Samuel Ekiru, the committee's secretary.
Habitat's head of programme Julius Coredo said the subsequent building phases would involve training-based interventions for different kinds of affordable housing solutions.
He noted that the stone houses were for the most vulnerable locals, who were selected from more than 500 settlers.