KWS investigating death of three rhinos in Masai Mara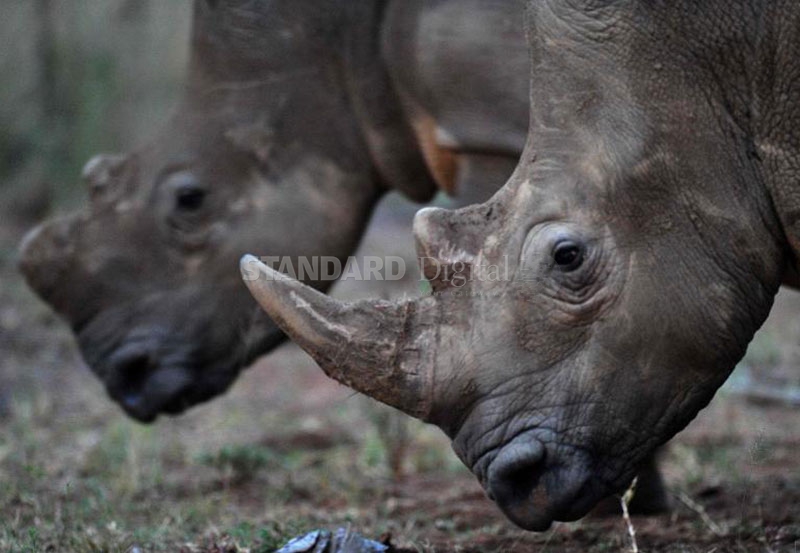 Security team in Narok are investigating an incident where three rhinos were found dead at Mara Triangle in the world-famous Masai Mara game reserve.
According to Narok County Commissioner George Natembeya, the rhinos were found dead in separate incidences in a span of three months and Kenya Wildlife Service (KWS) vets were carrying out tests on the carcasses in a bid to unravel the real cause of the deaths.
"We received information that there were three rhinos, one 37 years, another three-year old and a pregnant one under unclear circumstance," said Mr Natembeya.
He however, ruled out poaching over the fact that carcasses of the black rhinos had their horns intact.
"We suspect that the animals might have consumed poisonous plant but that will be revealed by the KWS report," said Natembeya.
KWS head of communication Paul Udoto confirmed the incident saying one male rhino aged 37 could have died a natural death but the two other deaths were alarming.
"Indeed we lost three rhinos among them a 37-year old male, a 16-year old expectant female and a young male aged three years, "said Mr Udoto, adding that, "Our vets have already taken samples from the three carcasses to the government chemists and we are waiting for the feedback."
The County Commissioner, however, said security of the rhinos at the Mara was top notch and that no intruder could have come to poison the rhinos.
"We have enough security at the park. We have KWS, County rangers and the police guarding the protected wildlife species," said Natembeya.