Mother of murdered 19-year-old school girl goes missing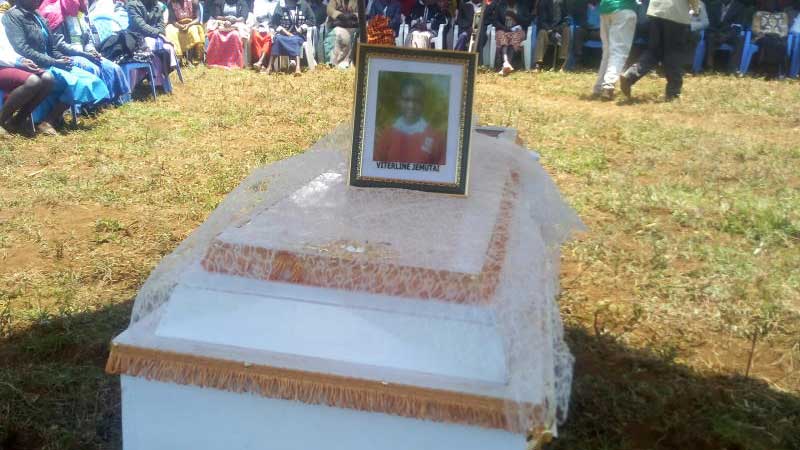 The mother of a 19-year-old girl who was killed last month has gone missing.
Viverline Jemutai, a Form Three student at Cheburbur Secondary School in Uasin Gishu County, was stabbed three times — twice in the chest and once in the neck — on September 20.
A suspect, 28-year-old David Kipsang, was arrested and arraigned on September 21.
Jemutai's mother, Gladys Chumo, went missing soon after the murder and missed her daughter's burial on Monday.
Went missing
According to Jemutai's father, Emmanuel Chebet, his wife became traumatised after getting news of her daughter's killing and has not been seen since Wednesday last week.
"She became uncontrollable as she ran in and out of the house several times before leaving the home. She has not been seen since," Mr Chebet told The Standard.
He said he was distraught because he did not know where his wife was and why his daughter was killed.
"I pray that my daughter gets justice. I'm also saddened by the disappearance of my wife. I'm asking the Government to help me in the search," he said.
The teenager was to be buried last Thursday, but the ceremony was suspended following her mother's disappearance.
The search
Kitany Location Chief Francis Chumba said there was a search for the missing woman, noting that the matter was reported to Kaptagat Police Station, Keiyo South, on Friday.
"We have involved the police in the search for the missing woman. We are now calling on well-wishers to join in and help us in the search," the chief said.
A neighbour, Wilson Karamai, said residents were mobilised to help search for Ms Chumo in nearby thickets.
To fight drought, involve communities
According to the latest information from the Meteorological Department, rainfall will be poorly distributed in April, May and June, and this will have a serious impact on agriculture