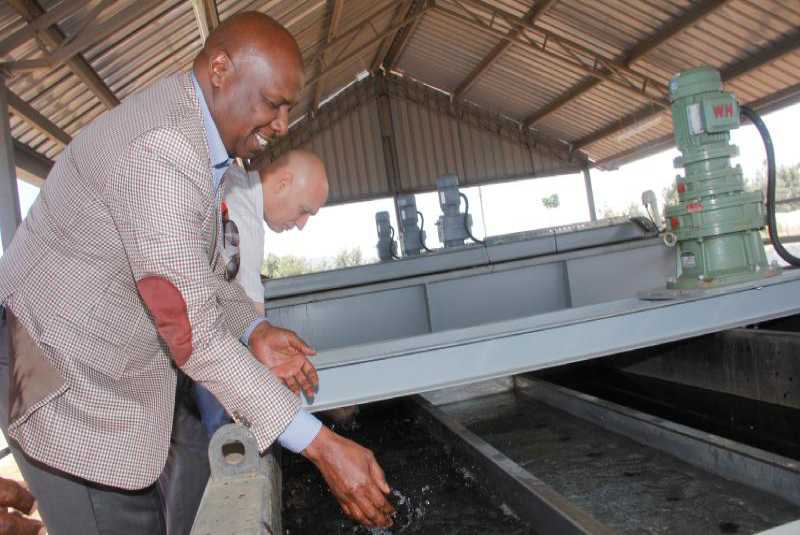 Baringo Senator Gideon Moi has called on local companies to adopt modern water technology.
Speaking when he launched a Sh18 million water filtering plant at Molo River Roses in Rongai, Nakuru County, yesterday, the senator said the multi-million shilling investment that uses Israeli water technology was a boon for the flower farm.
"This project will go a long way in making the flower farm competitive in terms of quality and quantity," said Gideon, who is chairman of the farm.
The launch was also attended by the farm's patron, former President Daniel arap Moi.
The plant, which has been in development for the last two years, will see the farm recycle used, muddy water that previously clogged the drip irrigation system.
For years, the flower farm, located in an arid region, has been unable to expand due to water challenges.
"We had issues and could not expand in terms of the acreage we cultivate, but with this water technology, the opportunity for expansion has come," said Gideon.
He said the farm managers were focused on improving the filtered water further to make it safe for drinking. They will also share the technology with others in the region.
"Our gates are open for leaders from pastoral areas to come and see what technology is capable of doing and change lives," he said.
During the launch, Israeli Ambassador Noah Gal Gendler said Kenya was endowed with enormous water resources and only needed the right technology.
He said 90 per cent of the water used in Israel was recycled using modern technology, providing enough for domestic use and farming.
"Kenya is a rich country. In Israel we do not have enough water. However, we supply Europe with tomatoes," he said.
Agricultural superpower
The ambassador commended the farm management for adopting modern water filtering technology.
"Adopt proper technology and you will be considered an agricultural superpower," he said.
The use of unfiltered water had cost the farm heavily through clogged drip-lines that had to be changed every six months.
"The water purification systems did not work," said General Manager Andrew Wambua.
The filtering plant can produce up to 100,000 litres of purified water per hour.
The farm intends to expand acreage under roses from 30 acres to 50 and to venture into the ceramics industry using clay collected from the plant.