Thousands at risk of eviction as county maps out landslide zones
RIFT VALLEY
By Fred Kibor | Jul 24th 2018 | 2 min read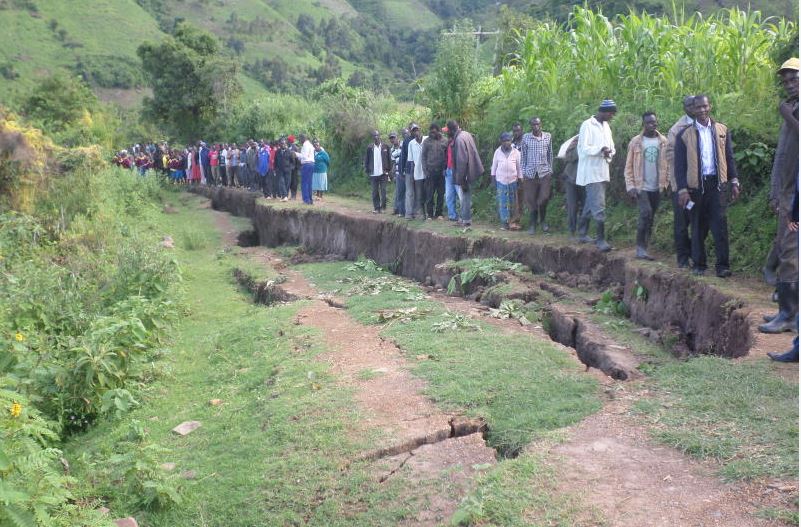 Families living in the Elgeyo escarpment risk eviction as the county government begins mapping non-settlement and non-cultivation regions.
More than 4,000 families live in the landslide-prone areas that have fault lines cutting across the county.
The mapping exercise was motivated by perennial landslides that have killed more than 100 people and displaced thousands of others over the past two decades.
Water, Environment and Natural Resources Executive Abraham Barsosio said a team of surveyors had been dispatched to do the mapping with the aim of removing residents who had settled and cultivated in high-risk areas.
"We are sending a team of land surveyors who will erect beacons that will guide on the cut-line.
Illegal farming
"We cannot accept this kind of illegal farming activities in the escarpments," said Mr Barsosio during a meeting on the impending mapping in Kocholwo, Keiyo South, yesterday.
"Over 30,000 people have haphazardly settled on the escarpment; they are farming and burning charcoal thus interfering with the environment, which experiences landslides every rainy season."
He said the county government had started massive public sensitisation campaigns to stop illegal farming across the escarpment as this had led to the numerous landslides.
"Unchecked human activity has resulted in killer landslides that also destroyed property. We want to avert such disasters in the future," said the county executive who was accompanied by his Agriculture counterpart Shadrack Yatich.
Barsosio warned that should the illegal farming continue, the county government would liaise with the national government security agencies to implement the eviction using force.
He noted that the escarpment, which stretches from Tugumoi in Keiyo South to Liter in Marakwet East, had been wantonly destroyed and that classifying it as a water tower was the only way to save it from decimation.
A county disaster committee report indicated that more than 10,000 households are living on the escarpment across the county and carrying out normal daily activities, which predisposes them to catastrophe.
Landslide zones
Among the areas targeted as notorious landslide zones are sections of Soy, Tambach, Sambirir and Embolot/Embobut wards across the escarpments and the hanging valleys.
Mr Yatich said any further destruction of the water catchment region would attract punitive measures. He also warned that local agricultural officers in areas where the environmental destruction had occurred would face disciplinary action.
He advised farmers to take up alternative agricultural practices, saying growing coffee, avocados, mangoes, bananas, macadamia nuts and groundnuts was better than maize farming for Kocholwo, Setano, Katumoi, Teber and Kabechei locations.
County Director of Meteorological Services Simon Cheptot said illegal farming had also led to the destruction of wildlife habitats.
Mzee Kenyatta's tailor dies
Mzee Kenyatta's tailor Parmar collapsed while having a shower, relatives say doctors confirmed he suffered a heart attack.