MP Arama spends weekend in police custody after swoop by EACC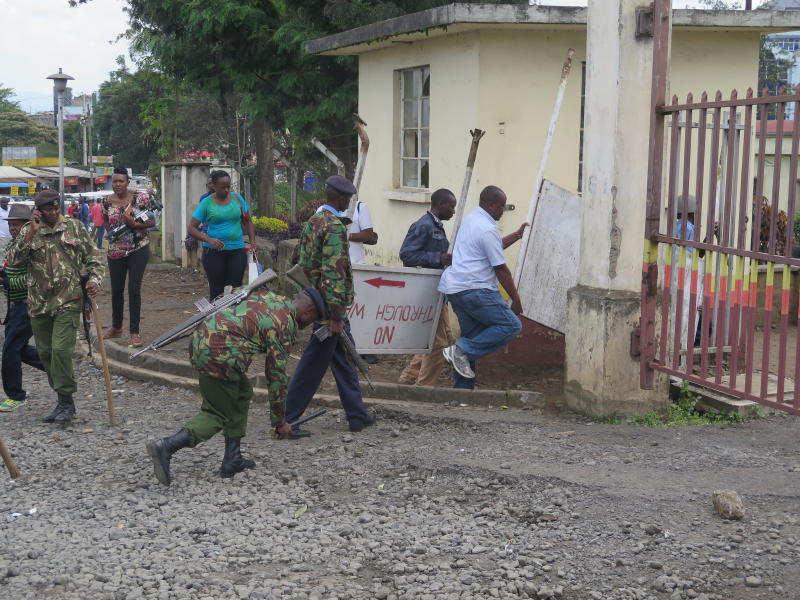 Nakuru Town West MP Samuel Arama was forced to spend cold nights at Railways Police Station after he was arrested on Friday night over alleged fraud.
Arama was arrested by detectives from Ethics the Ethics and Anti- Ethics and Anti-Corruption Commission (EACC) on Friday night over Sh60million land related case.
He was arrested alongside his lawyer Kennedy Onkoba who signed the sale agreement of the 50 by 100 plot located within Nakuru town in 2015.
Efforts by family members, supporters and politicians to have the lawmaker released on bond remained unsuccessful.
On Sunday, charged youth gathered at the police station, shouting at police officers in uniforms demand release of Arama whom they claimed was innocent.
At the watch of uniformed police officers, the youth pulled down a bill board bearing signage of the police station and further opened the gate to the police station.
"We need release of our MP now, why are you holding him at the station? We want to see him," rowdy youth were heard chanting.
However, the youth were swiftly dispersed after Railways OCPD Mr Edwin Onguari ordered the officers to disperse the youth.
Nakuru Town East MP David Gikaria who was at the station for a second time criticised the police for failing to release Arama on police bond as investigations continue.
"It is a suspects rights to be issued with a bond unless the reason of interfering with security or investigations. The honourable MP should just be allowed to go home and appear in court," said Gikaria.
Gikaria said the police and DPP had failed to explain the reasons for continued detention of the MP.
"EACC and ODPP are are independent agencies and irrespective of instructions, bonds at police stations is responsibility of Officer Commanding Station (OCS) the officer wanted to issue a bond but he did not give, and there was no clarity," he said.
However, he said Arama did not have an issue with staying at the cells, and that he is looking forward having the matter handled at the court.
"Arama is okay, apart from missing church service, he has accepted to spend the night at the cells and decision by EACC and DPP," said the MP.
He noted that at the court, his lawyer will request for him to be issued with a bond, a matter he does not expect the DPP to object.
Arama is charged with six counts including abuse of office, conspiracy to defraud, making a document without authority, uttering a document with intent to deceive, obtaining registration of land by false pretense and knowingly misleading an investigator.
According to EACC through the communication department, between August 3, 2015, Arama is said to have made a document regarding the 50 by 100 plot located within Nakuru town without authority on diverse.
In a charge sheet which The Standard has a copy, Arama, his lawyer Onkoba and three other suspects who are still at large on diverse dates between 3rd August 2015 and 11th August 2015 at unknown place in Nakuru County conspired with intent to defraud Mr Ahmed Muhammad Nisar by means of dispossessing him off plot Nakuru Municipality block 6/95 located within Nakuru town.
Railways Police Station OCPD said the MP could not be freed on bond without knowledge of EACC.
Mr Ogwuari said according to EACC, Arama would not be issued with police bond because he might have interfered with investigation process.
"EACC requested to have the MP held because they have not cleared with investigations that are ongoing," said the OCPD.
He added that today, he will be presented to court by the commission where he will be charged with six counts as stated by the Director of Public Prosecution (DPP).
The OCPD further asked members of the public to be patient and allow law take its course, and the case is still under investigations by EACC, and should not accuse officers at Railways Police Station.
DPP Haji in a press statement issued on Saturday approved charges preferred against Arama after investigations by EACC following a complaint on illegal acquisition of parcel of a plot.