Man who walked away with Sh1 million for singing 'Turkana is Kenya'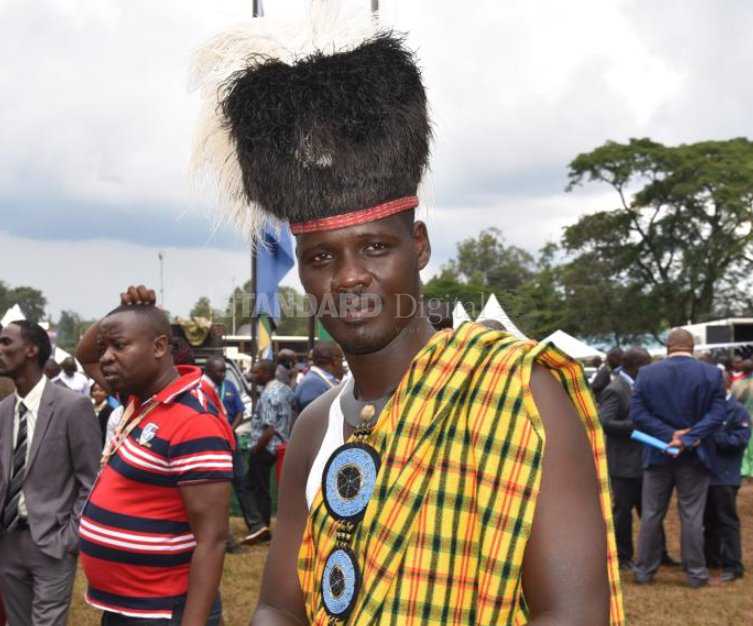 When constabulary duty's to be done, a policeman's lot, is not a happy one, so goes the saying which can pass as the gospel truth considering officers' living and working conditions.
But that saying might not make much sense to Edward Ekidor, a 33-year-old police corporal attached to Langata Police Station.
Ekidor is a happy police officer. And he has no qualms singing about his happiness -- or about the place where he was born and bred: Turkana County.
A few weeks ago, Ekidor got an unexpected Sh1 million from Deputy President William Ruto after he performed a thrilling song during this year's Tobong' Lore cultural festival that concluded last week.
He wowed the crowd by singing Turkan, a song meant to woo citizens to visit the county christened the cradle of mankind, but which had been so marginalised that whenever locals visit other regions, they say, they were 'going to Kenya.'
In in his song, Ekidor who was dressed in traditional regalia, explained the need to change the narrative telling the crowd that 'Turkana is Kenya.'
Pending music projects
Dignitaries and locals sprang from their seats to dance to the song that enthralled all guests. By the time DP was concluding his speech, Ekidor was in a discussion with fellow artistes, totally unaware that he was being looked for, to be rewarded for his performance.
He got a surprise of a lifetime when the DP's handlers went to look for him in the crowd.
Earlier, as he was preparing to grace the event, he had posted online that "Hii ni ile siku" (This is the main day). And it indeed turned out to be a memorable day for the man from Turkana Central. "After the performance, Ruto asked me how he should help me and I told him that I was facing financial challenges in recording and airing my music. He told me he will see what to do and went to sit down with other leaders including area Governor Josphat Nanok," said Ekidor.
And when the DP finished his speech, he asked for him. "Where is the man who sang well on Turkana? His message is clear and I am impressed and I will give him Sh1 million so that he can boost his music career," the DP said.
The announcement caught the father of three by surprise. Ekidor confirmed that he indeed received the amount from the DP but is yet to come up with a conclusive plan on how he will use the windfall.
"I received the cash in a brown envelope on Saturday evening as the DP was boarding his chopper and it dawned on me that his promise came to pass. If I decide to share the amount with my relatives, it will not be enough. I need to sit down and plan," he told Saturday Standard.
He added: "The money was meant for music because currently I have pending music projects."
Ekidor said his passion for music dates back to primary and secondary school when he was a soloist and performed traditional songs.
"I do not want to let down the DP. When he asks about me in the near future, he should find out that I have scaled higher heights in the music industry," he said.
He said the amount will eventually transform his career as he will record more songs laced with messages that resonate well with the public. So far, he has successfully released three albums with 'Turkan' and 'Askari' songs receiving a huge airplay.
The musician is in his final year at Strathmore University where he is pursuing a Bachelor's degree in Commerce and has a full scholarship following a collaboration between the National Police Service (NPS) and the institution.
He said life has been a struggle more so because he comes from a humble background. "I led a challenging life and getting two meals a day was rare. The area was remote but I am glad that it shaped me to be who I am now. The county government has shaped my future and if given a chance, I can be a good brand ambassador in promoting the county through music," he said.
He said discipline has earned him praise from his superiors and they have continued to support his passion for music. "As a corporal, I find time to write and record my songs. I have developed a good rapport with my bosses and I always keep them informed. At the moment, they are happy with my progress and always encourage me," he said.
On Tuesday, Ekidor got a rare opportunity to perform before hundreds of delegates who attended the fifth annual Devolution Conference in Kakamega County.
"It was a good platform for me yet again. This is a reminder to those in the music industry that their stars will also shine. They just have to press on and value patience in life," said Ekidor.
He also revealed that he has started receiving invites from West Pokot, Uganda and South Sudan.