County launches plan to address water crisis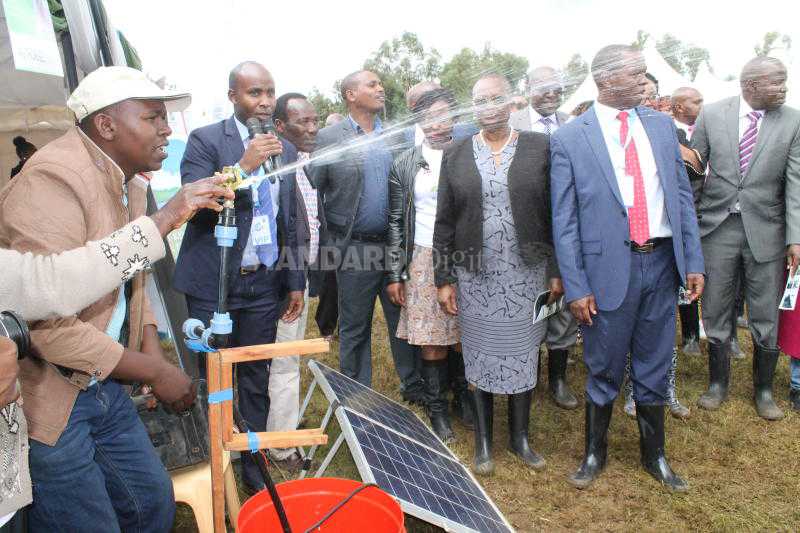 Governor Ndiritu Muriithi has announced that the county will spend Sh15 billion on water projects in the next five years.
Speaking during the county's first water conference yesterday, Mr Muriithi said the money would be used to construct water dams across the 15 wards, fund the proposed Nanyuki Bulk Water Storage, among other projects aimed at easing water problems in the county.
The governor said the National Government would fund the construction of three mega dams in Nanyuki, Wiyumiririe and Rumuruti at a cost of Sh300 million each. The three projects will provide irrigation water and livestock production.
"Agriculture is the key source of income in Laikipia, and we need sustainable water supply," he said, noting that lack of water was a key cause of conflicts and human suffering in the county, especially during dry seasons.
He said distribution of water resources remained uneven, adding that some areas like Salama Ward and Doldol were experiencing serious shortage.
Increase supply
The county boss said there was need to increase water supply, as the county has 200,000 hectares that can be irrigated.
"Only 20 per cent of the land is under active production. We cannot realise food security if we only rely on rain fall for agriculture. We want to create bulk water storage to put the land into use," he said.
He said the county would provide Sh1 billion for the planned Sh15 billion water project, with the remaining Sh14 billion expected to come from private investors.
Private investors
The proposed Nanyuki Bulk Water Storage, estimated to cost Sh5.4 billion, is one of the projects private investors are expected fund. The governor said the project would see residents supplied with clean water for the next 25 years.
The conference, which brought together players in the water sector, including river water users associations, water companies, and Water Resource Management Authority, was aimed at generating ideas, including those on technologies and financing methods, to ensure adequate supply of water for locals.
The Chief Administrative Secretary in charge of Water and Sanitation Winnie Guchu said that there was need to provide adequate water across the country to boost food security.
Africa's Eurobond issues questioned
Zambia denied on Friday it is hiding debt and showed budget documents detailing borrowing. The Republic of Congo also said it is not concealing debt.