Over 100 escape death narrowly as vehicles are swept by floods at Suswa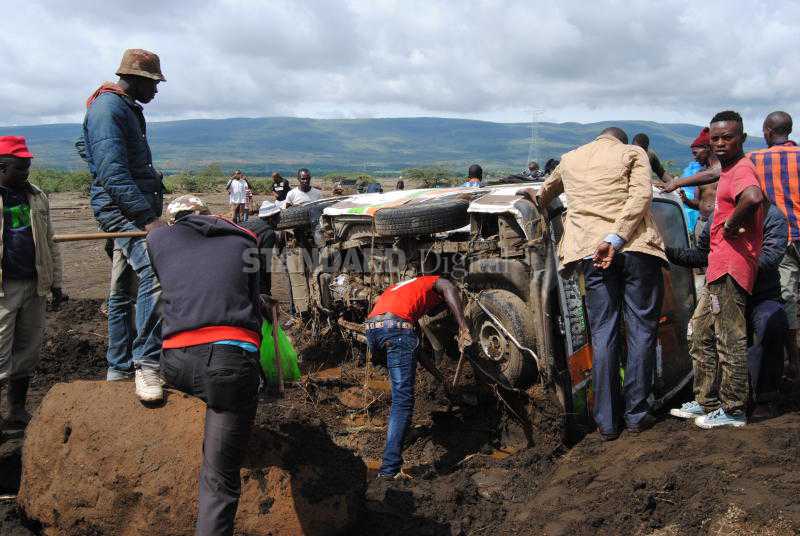 About 100 people escaped death narrowly after 10 vehicles were swept by raging flash floods at Suswa area along the Narok-Maai Mahiu road Sunday night following a heavy downpour that hit the area.
The incident that happened at around 6P.M saw motorists trapped in a traffic jam for over three hours as the raging floods carrying heavy boulders of stones swept away the vehicles.
According to witnesses, the floods caught the vehicles in the middle of the tarmac making it difficult to move either forward or backward.
Luckily, there were no casualties as members of the public who were nearby rescued all those who had been swept by the floods.
Alfred Oduor, who is among those who were rescued in the water counted himself lucky as the matatu was overturned by the huge floods.
"I was heading to Nairobi from Narok to visit my family for the weekend and on reaching Suswa our vehicle which had 14 passengers was carried away. Luckily, there were people who were nearby who rescued us and we managed to come out unhurt though some lost their valuables," said Oduor.
Oduor is however appealing to the government to come up with a lasting solution to curb the perennial menace by building a bridge of raising the road and constructing huge culverts.
Wesley Lang'at who was among the rescuers said they had to use ropes to rescue motorists and passengers who in the center of the floods.
"Our vehicle was just behind a lorry that was swept and when we saw downstream we saw seven vehicles with people calling out for help. We reacted swiftly by throwing ropes to them where they tied themselves and we pulled all of them to safety," said Lang'at.
The incident happened few kilometers from the where a huge crack that cut through the tarmac happened along the same route.
Narok Governor Samuel Tunai who spoke at an event near the area said the government was deliberating on diverting the road to pass through Ngong-Suswa to Narok as a lasting solution to the natural phenomenon affecting the major highway.
"We have proposed to the government that going forward we could like the road to pass through Ngong from Nairobi through Suswa. As Narok we are also working on two bypasses to ease congestion by vehicles coming from the highway," said Tunai.
Take a quick survey and help us improve our website
Take a survey
To fight drought, involve communities
According to the latest information from the Meteorological Department, rainfall will be poorly distributed in April, May and June, and this will have a serious impact on agriculture