Woman attacked by husband for denying him conjugal rights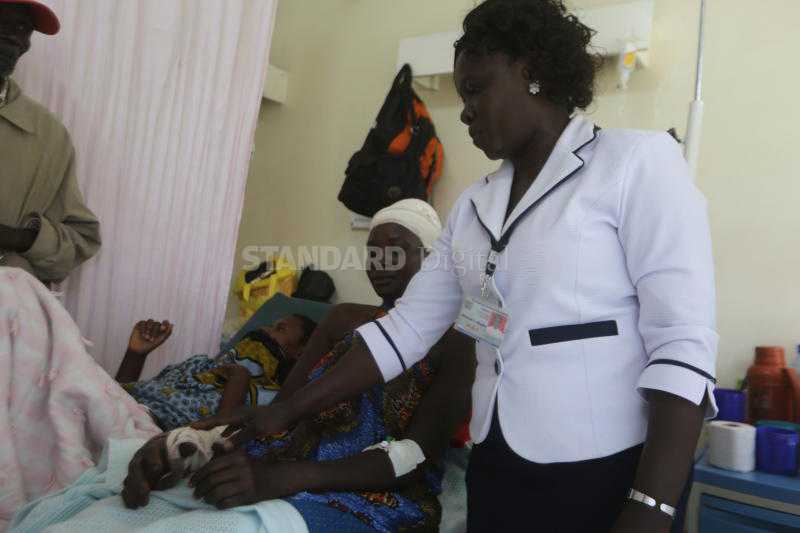 A woman is nursing serious injuries after she was attacked by her husband for allegedly denying him conjugal rights.
Ann Akiru from Barina in Kampi ya Moto is admitted to the Rift Valley Provincial General Hospital with deep cuts on the head and ears and is scheduled for amputation of her right hand.
The suspect behind the Sunday attack, John Lokoreno, was said to have committed suicide.
"I'm in deep pain. The wounds on my head and arms cannot allow me to rest and have sleep. It's unfortunate that a man whom I trusted as my husband is the one who has left me in such a hopeless state," said Ms Akiru, 30.
Family disputes
She said she and her husband had been having family disputes since February.
"My husband demanded sex, but I informed him that I was having my period. He did not take this kindly and claimed that I was unfaithful," she said.
She said he kept threatening her and spying on her through his friends and relatives.
"My husband begun spying on me after I denied him conjugal rights. He would call neighbours, asking them my whereabouts and would walk into the house in the wee hours and pick a quarrel," she said.
She explained that when Lokoreno arrived home last Friday from Naivasha, where he lived, he looked agitated.
Locked the door
"On Sunday, I invited my mother and together we spoke about the cause of our disputes and agreed to put the matter to rest," said the mother-of-five.
Take a quick survey and help us improve our website
Take a survey
She said when her mother left, her husband got into the house while she was preparing a meal, locked the door, and attacked her with a machete.
Neighbours rushed her to Mogotio hospital, but was referred to the Level Five facility.
She later learnt that her husband's body was found in a thicket.
To fight drought, involve communities
According to the latest information from the Meteorological Department, rainfall will be poorly distributed in April, May and June, and this will have a serious impact on agriculture