Gold searchers in West Pokot County still languishing in poverty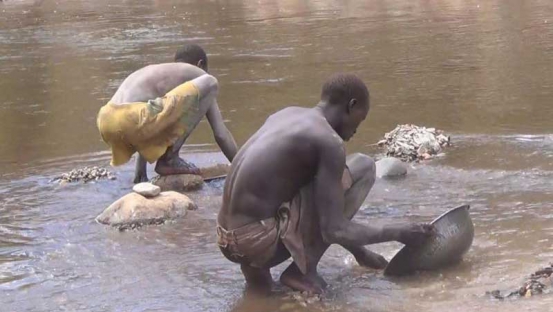 A typical day in the life of residents of Chepukaun village in West Pokot County begins at 7.00am.
Some rush to milk their cows while others bask in the sunshine waiting for mid-day hours to trek to River Muruny to mine gold.
They have abandoned their previous economic activities, which include smallholder agriculture and livestock keeping and embraced gold mining in the hope of turning around their fortunes.
Their hopes are still alive as they believe their efforts will finally meet a Good Samaritan who will buy their gold at a good price but unfortunately several years on, they have not recouped their investment.
More than ten years, majority are still languishing in poverty. Most local miners are not able to support their children acquire education as well as feed and clothe decently. Women lead the group in the gold search. Armed with rudimentary items such as a pickaxe, spade and metal basins, they enter River Muruny to mine the precious commodity.
They are often accompanied by their children, mostly aged below ten, who carry for them food, often, a mixture of maize and beans.
The children cannot be in school because they look after their younger siblings as their mothers bend their backs shaking the heavy basin metals searching for gold. Standing in the middle of River Muruny Chepurayi Nancy, 40, looks frustrated.
The single mother of four scoops sand and stones from the bottom of the shallow waters with a basin and searches for gold in the container (basin) with her bare hands.
Priceless resource
She has been searching for the world's priceless resource in the sandy blend of water and stones for hours through the Friday afternoon, but is yet to find gold.
However, as she shakes the heavy metal basins, tiny yellow and white metals appear at the bottom of the basin she has used repeatedly to scoop sand, stones and water from the river during her all day long gold search. A smile that had eluded her for several hours finally appears on her face.
"This is a business of hope. You keep working hoping to find gold at some point. It is not an easy venture," she says.
Chepurai is not alone. There are scores of other women and men who have resorted to searching for gold. "It is a business of luck for artisan's world over. You can strike gold and become a billionaire in a minute. It is that hope that keeps us going every other day," Henry Kolipus, 66, says.
Kolipus says they work in groups and combine efforts in digging pits at the banks of the river to acquire some gold.
"We are roughed up in poverty despite us searching gold for years. The women also depend on gold to educate, feed and clothe their families," states.
Women spend the whole day in the river and at the end of the day, get a point of gold which they sell to middlemen at Sh200 per point.
"Two kilogrammes of maize cost Sh100. We also have to buy vegetables and other basics. At the end of the day, you have nothing to save for our children to buy books and pens," he said.
He ventured into the gold searching business when he was a teenager, unfortunately he is still languishing in poverty. He is even struggling to keep his two children who are in secondary in school.
There are crocodiles and snakes in the river but they just have to watch out when searching gold in the raging waters.
West Pokot Executive member for Trade, Industrialisation, investment and cooperative development Augustine Chemonges has urged the artisans to form cooperatives.
He added that when they are organised in cooperatives, the county will help them acquire equipment in 2017/18 Financial Year to be able to extract the minerals.
"I am organising for a stake holder's forum to enable the miners forge a way forward and borrow a leaf from other counties who have better practices and are getting value from the minerals. We will also help them source for market where they will sell the mineral at a better price and in a more organised manner," said Mr Chemonges.
He added that the middle men had exposed the miners and the county government is expected to have a meeting with the miners to sensitise them the importance of forming cooperatives so that they get a serious investors who will buy from them.
"Most of us were cattle keepers but we are now mining gold because it is more profitable than cattle rearing because of the unpredictable rainfall that lead to death of livestock.
"We may not be getting a lot of money from mining today, but we are hopeful that one day huge amounts of gold will be found," said Caroline Chenangat, another miner.