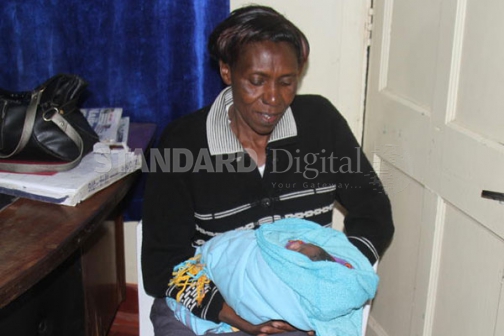 KENYA: A 50 year old woman from Nakuru Pipeline area is in a dilemma after a one-day child was left in her custody.
Ann Muthoni, who at the moment is the acting mother to the new born, was handed the innocent creature by the mother who fled leaving her with the child on Friday evening.
According to her the woman approached her while she was taking shelter at Lions Gardens and asked her to hold the child as she wanted to go for a short call.
She didn't suspect anything fishy from the woman and accepted to help and just like any other mother was pleased to be trusted with the child.
Things however turned unexpected as the mother of the child went missing. She said she sat there waiting for 15 minutes only to realize the child's custody had been transferred to her unknowingly.
"The woman in her 20s approached me and asked for my help, she said she was out for a short call, pleased that she had rusted me with her child I accepted" said Muthoni.
Muthoni went looking around for the child's mother but to no avail. She tried seeking help from the police to have the unknown mother traced but the woman is still at large and was forced to walk home with the child.
She said the woman was a stranger and could not recognize her. The woman had however informed her that she was from Nakuru Provincial General Hospital after being discharged from the maternity with the new born.
Muthoni is calling for help from the Police and other well-wishers to have the woman traced and have her child back. She said the child is despite being in her hands needs the presence of her mother to breast feed her as she could not.
"I appeal upon the police and anyone who might know the woman or suspects someone who could have given birth and left her child to help me save this innocent child" she said.
Incidents of child negligence seem to come up in the rise area.
Last week a mother of six was arraigned in court and charged for neglecting her two months old child.
Ednah Chepkemoi from Njoro told the court that she had chosen to abandon her child instead of killing it. Chepkemoi's child was however rescued and by the owner of the home who reported the matter to the area chief and police.
She had told the court that she committed the offense tact as she didn't know the father of the child. She further said the child who was her sixth born came to being at a time when she had decided to quit giving birth.