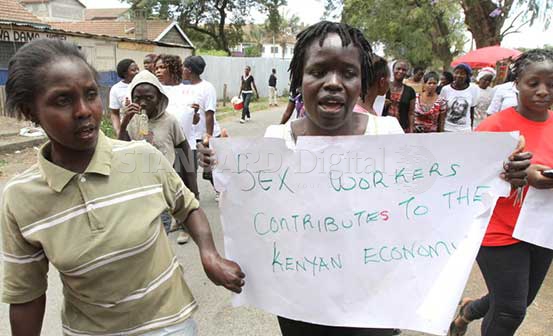 NAKURU: The recent killings of eight commercial sex workers in Nakuru town has generated a heated debate among local leaders on whether prostitution should be legalised or not.
Nakuru Town East MP David Gikaria argues that prostitution is a 'harmless' act and therefore should not be considered a crime.
The women, who were killed between March last year and January 17, Gikaria says, would be alive if the sex trade was legal. Those killed are Maureen Wanjiku, Grace Wangari, Esther Muthoni, Eunice Njeri and Jane Waithera, Shammim Mukusa, Naomi Ngina and Miriam Wangui.
"If the trade was legal those women would be operating in a safe environment and not in dark alleys and unsafe streets," he said.
The legislator, who said he has been helping a group of commercial sex workers operating in his constituency work with dignity, said he was in the process of preparing a bill to push for legalisation of prostitution.
Read More
Commercial sex workers in the town have been living in fear following the spate of the chilling murders.
Last weekend's discovery by police of Wanjiku's body, which was allegedly being ferried in a tricycle-taxi. The suspect has since appeared in court to face murder charges.
Wachira, according to police, has confessed to killing at least five of the eight commercial sex workers allegedly in revenge after one of them stole from him.
Bodies of the victims that were discovered in dark alleys along the notorious Kanu Street were disfigured and had their private parts removed in what police believe was the work of (a) serial killer(s).
Gikaria has rattled youth leaders in the county with his push for legalisation of prostitution.
Maggy Kiiru, a Member of the County Assembly, nominated by the Jubilee coalition to push for the youth agenda, said it was a disgrace for elected leaders to push for the legalisation of prostitution.
"Prostitution is simply immoral and should remain a crime under the statutes. Legalising prostitution would increase the spread of STDs," said Ms Kiiru.
The youth leader observed that since most sex workers were female, the practice was demeaning to women and enhances chances of rape and violence.
She challenged Gikaria to come up with more innovative ways of helping jobless youths.
However, the MP maintained there is nothing immoral about sex, and since it is freely dispensed, there is no harm in charging for it.