Meat-eating forums being used to educate men on family planning methods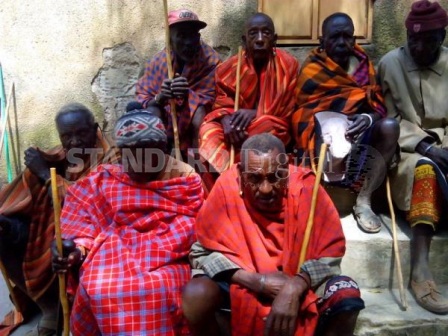 A faith based organization in Narok County has embarked on a mission to educate male members of the Maasai Community on the importance of family planning through meat-eating forums.
Traditionally the community was predominantly polygamous and has been viewing children as a sign of wealth but the Community Health Partners (CHP) has taken the initiative to educate men as they are the ones to determine the number of children in a family.
Dr. John Sankok, the Program's Director says the organization focuses on men who come together in social forums, slaughter a bull and as they share the pieces of meat, they receive family planning concepts.
"It is difficult to convince them at once since the community regards many children as wealth and the strength of a man, but with time, they get to see the sense in it and conceptualize the concept," he explained.
Dr. Sankok says women are easier to influence than men and when the men, who are heads of families conceptualize the concept it becomes easy to sell the idea to the women.
"The men are trained on how to use modern family planning methods to have a manageable family, improve the health of women and children, as well as the importance of excusive breastfeeding for infants," he explained.
He said there was a negative reception at first as most community members believed family planning methods or use of contraceptives would make women sterile.
In a bid to convince the elders and men into accepting family planning, they buy bulls which they then slaughter for them in bushes where they get an audience and so far, he said, the response has been positive.
The Director notes that the few men they train act as their ambassadors to train others hence the message spreads.
"Women too are encouraged to form groups of ten where they are trained by professionals on methods of family planning," he said.
According to Kenya National Bureau of Statistics, the male population of Narok County was 429,026 in the year 2009 and is expected to shoot up to 624, 854 in the year 2017.
The population of female is projected to increase to 614, 466 from 485,779 in the same period.
Techno Brain, Fuzu targets jobseekers, students with new job solutions
Techno Brain, a leading African IT solutions provider, has partnered with Fuzu, a career development and recruitment platform provider to develop skills and competencies that will boost the employability of job seekers and students, both in Kenya and in the wider east African region.