Even in the corridors of justice, police imposter Joshua Waiganjo was no ordinary crime suspect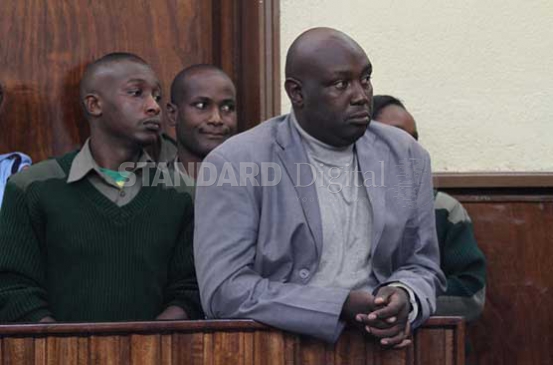 NAKURU: During the hearing of the case of police imposter Joshua Karianjahi Waiganjo, it was not lost to those who interacted with him that he was not your ordinary suspect.
Waiganjo, unlike other inmates and suspects, was treated in a special way in and around the courts. He would walk at his pace, converse comfortably with the officers, members of the public and even the press before court proceedings kicked off.
"I can see my boys are still eating well despite my arrest," he joked openly with police officers manning the courts.
The imposter has already appealed against the five-year sentence handed to him by Senior Resident Magistrate Shadrack Mwinzi.
In the ruling, the magistrate found him guilty of five of the 10 charges leveled against him and sentenced him to five years for impersonating a police officer.
Mwinzi acquitted Waiganjo on two counts of robbery with violence after the complainants failed to testify in court. He also acquitted him on two charges of impersonating a police officer and one count of dressing in police uniform.
He jailed Waiganjo for five years for impersonating a police officer, one year for dressing in police uniform and six months each for three charges of being in possession of government stores. The charges will run concurrently, meaning Waiganjo will only serve the highest jail term of five years.
And as the case continues to attract more attention, Richard Ochieng' Tutah, a security expert says there is more than meets the eye.
COVER FROM ABOVE
"Investigations should deal with those officers in the rank of assistant commissioner of police and above as they are the ones he dealt with," says Tutah.
A senior police officer who declines to be named for fear of victimisation concurs with Tutah that there is no way Waiganjo could have worked alone.
"The question that has never been answered is who authorised his uniform and the police vehicle that ferried him from one point to another," he says.
But the self-proclaimed "assistant commissioner of police" will not go down easily and still insists he is a police reservist number 10885.
A letter dated May 29, 2003 and signed by former Rift Valley PPO Peter Kimanthi, shows that Waiganjo was appointed as an ACP in charge of reservists in Northern Rift. "You are to oversee activities of all police reservists in Northern Rift, especially Kapenguria, Kitale and Nakuru," reads the letter in part.
Speaking in a bold and strong voice, Waiganjo blames his former bosses for his woes adding that he will fight on until he gets justice. "One can impersonate a senior police officer for one or two days but how is it possible that I did that for more than 10 years?" he poses.
Waiganjo confirmed meeting various police bosses including former Commissioner Mathew Iteere and wonders how no one suspected him as an imposter.
"For the period I was a police reservist, I got my uniforms from the police stores where I signed and carried them just like other officers," he says.
He claimed there is more than meets the eye in his case, noting that at one time he was offered Sh30m and asylum to implicate President Uhuru Kenyatta as part of the ongoing ICC cases.
ICC CONNECTION
"My view is that ICC today is a political tool used to harass and eliminate opponents and some people are key players in the Kenyan cases," he says.
In his defense, Waiganjo had only one witness, former Rift Valley PPO John M'Mbijiwe, who termed the accused as a very powerful man with connections from the high and the mighty.
M'Mbijiwe, who worked with Waiganjo, termed him as very crucial in police operations. In his testimony, M'Mbijiwe described Waiganjo as having a very close relationship with former Police Commissioner Mathew Iteere.
"It is obvious in the police circles that Waiganjo was Iteere's right hand man and it pains me that we are being prosecuted yet those behind the whole saga are walking scot-free," an agitated
M'Mbijiwe told the court.
M'Mbijiwe stunned the court when he said that Waiganjo, due to his close relationship with Iteere, was untouchable.
"I have worked in the police force for 30 years and I can tell an imposter from a kilometer. Waiganjo was not one of them," he said.
Comic but tragic story of fake top cop Waiganjo
As convicted police imposter Joshua Karianjahi Waiganjo begins his five-year jail term at the Naivasha GK Prison, his story – how he was arrested, the prosecution and incarceration – remains a puzzle for many a Kenyan.