Baringo Commissioner issues shoot to kill order against cattle rustlers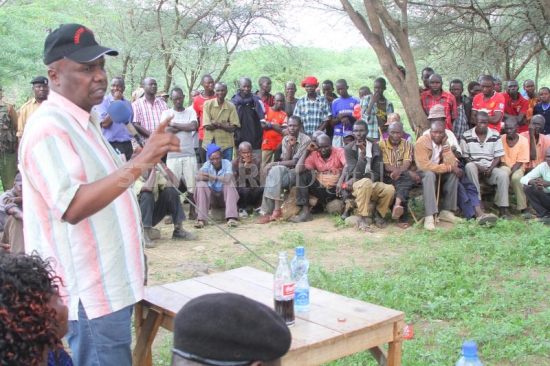 ITEN: Baringo County Commissioner Peter Okwanyo has given security officers in Loruk a shoot to kill order following attacks early this week.
And Baringo Senator Gideon Moi has convened peace talks for warring members of the Pokot and Tugen communities living along the troubled Loruk border point.
Addressing both communities and local leaders separately, the senator appealed to them to stop their feuding and consider building peace among themselves for the sake of development and regional stability.
Gideon also asked the Government to ensure criminals responsible for the death of Loruk location retired chief Wilson Chepungei and the torching of shops at the trading centre on Sunday were arrested and prosecuted.
"I plead with you not to revenge. It is true what you are going through is painful, but talk to your youths and leave everything to the Government," he told the residents.
While the senator was preaching peace, the commissioner, addressing Pokot residents in Chepilat, Taity, gave the shoot to kill order against cattle rustlers - whether armed or not.
He also directed security officers along the troubled border to accost and shoot illegally armed residents accused of flagging down vehicles at night along the Mariga-Loruk road.
Mr Okwanyo, who has also apologised on behalf of the Government over laxity in tackling insecurity, said youths found torching houses in Loruk would be shot on sight.
"We have intelligence reports of elders and other people inciting communities against each other. These people are known and they will soon be apprehended and punished," he warned.
The commissioner's orders seem to be in response to Gideon's condemnation of Government laxity in ending the chaos that has seen several killed and property worth billions of shillings destroyed.
PEACE AMBASSADOR
Speaking earlier at the now deserted Loruk trading centre situated along the Marigat-Chemolingot road, the senator described the slain chief as a renowned peace ambassador and development-conscious leader.
"The Government has no option here. We have lost many people and we want to see a massive recruitment of national police reservists in all troubled areas," he said.
Gideon also visited the late chief's home to condole with family members before holding talks with community elders.
Woman Rep Grace Kiptui asked the Government to disarm and collect all illegal firearms in the North Rift region.
"We have more illegal guns than we have security officers and these must be removed because they are the cause of all this trouble. This is a fact known to everybody," she said.