Buffaloes stray into Longonot school, injure pupils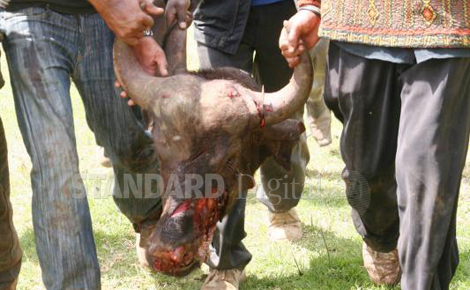 NAIVASHA: Scores of pupils were injured, two of them seriously, after a herd of buffaloes strayed into their school.
Screams rent the air as the minors and their teachers scampered for safety during the early morning incident at Longonot Township Primary School.
Learning in the school, with over 800 students, was paralysed as Kenya Wildlife Service (KWS) officers and the public moved in to drive away the herd.
GAME MEAT
One of the buffaloes, which charged at the minors, was later killed after it fell into a trench. The residents slaughtered it and divided the meat among themselves.
According to youth's leader Charles Mburu, the wild animals strayed into the school in search of pasture which has diminished due to the prevailing harsh weather conditions.
"It is by the grace of God that no one was killed and that we managed to rush the two minors to a nearby health centre where they are currently admitted," he said.
Mburu, the national chairman Youth Forum, attributed the increase in wild animals venturing into human settlements to ongoing geothermal work and construction of a resort near Mt Longonot.
He said these activities have resulted in wild animals becoming displaced from their natural habitats leading to an increase in cases of human-wildlife conflict.
"We are concerned by the sharp rise in cases of wild animals straying into farms around Mai Mahiu and Longonot areas," he said.
Meanwhile, a motorcyclist was crushed to death by a speeding matatu along the Mai Mahiu-Narok road on Thursday morning.
His passenger was seriously injured and rushed to Kijabe Mission Hospital following the accident near Mafuta Taa Centre along the busy road.
HEAD ON
A witness, Abel Mathu, said the speeding motorcyclist was overtaking a lorry when they rammed head on into the incoming matatu that was heading to Narok from Nairobi.
"His seriously injured passenger was rushed to hospital while the matatu was badly damaged," he said.