Relationship Dilemma: Should I tell him I caught STI after cheating?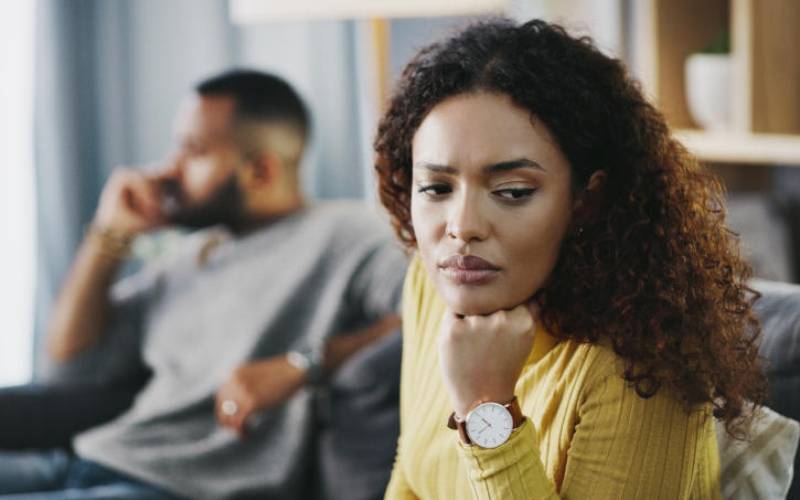 Last Wednesday, October 13, The Standard shared, on its official Facebook page, a relationship dilemma from one of its readers as usual.
We sample some of the advice shared by Kenyans in the comments section and also reach out to an expert for their opinion on how the reader can come out of the confusing situation.
The Standard publishes on its verified Facebook page (Standard Digital) a relationship dilemma sent to us via our Facebook inbox every Wednesday mid-morning.
If in need of relationship advice – from an expert, or are seeking to get Kenyans' opinions on a certain confusing relationship situation – send us a message via Facebook, with the title 'Relationship Advice', and we will escalate the message to appropriate respondents.
We guarantee you dignity by hiding details that could lead to your identity being known or exposed to the public.
Hi, please hide my identity.
I am 33 years old and married to a loving man. We live and work in Nairobi.
About three weeks ago, my husband and I had a nasty fight, and out of anger, I stormed out of our matrimonial home and spent that weekend at the home of another man, who had been making advances at me.
I had met him at an NGO workshop in June this year.
Out of frustration, we got intimate when I was at his place. After a week, I discovered I had contracted an STI.
When I visited the doctor, I was told that treatment would last a month, and I'd have to go for injections daily for five days.
We have since reconciled with my husband, and every time he shows interest in getting intimate with me, I push him away.
I fear he might find out that I'm treating an STI, given the doctor who treats me knows him well.
What should I do? Should I confess I cheated?
Please, advise.
SAMPLES OF THE ADVICE WE RECEIVED FROM OUR READERS.
Colah Kennedy: The only place to find solace after a fight with your man is another man's chest? Some sins are more than a sin.
Bernard Benedict: As a philosopher, the moment you decided to cheat on him, you simply signed a divorce paper. Now bring him his copies too.
Gibbie Gibbys: My friend and his wife had a fight one time then the lady came to me complaining about the man being a cheat. To my surprise, she was so desperate and broken that she almost made advances on me to calm her frustrations but I pushed her off and asked her to respect our friendship. It is true If you are not careful in such a situation you might end up being intimate and sire an unexpected child ending up betraying your friend after just a stupid argument that most women with pride can't handle. It is also true that desperate women fall easily to the next man available and most men take that chance and do more harm.
SSir Pitson: You were just looking for a fight to go satisfy your lust. Your case is beyond advice, go to hell and come back flying confess and go back to hell.
Naomi Masinde: Confess your sins to your Lord, you will be forgiven. But never ever try to confess to your husband if you want your marriage to last. Never let the cat out of the basket (sic). These are the secrets you take with you to the grave. Once you tell him he might dumb (sic) you or will be using this scenario as a weapon to attack you.
Regina Njoroge: Anger is never an excuse to cheat, you even put an effort to sleep with another man, It means that. you had been cheating all along, emotionally, you just ran off your home to complete the physical act, emotional adultery is probably what caused the disagreement.
Mimi Mwenyewe: She should not confess. In this life or the next. That secret she should take to her grave. That doctor is forbidden by professional doctor-patient confidentiality from revealing her situation. She should wait until she gets healed and some few extra days after that just to be sure. She can tell him she has prolonged periods. And that she may need to go for some tests in hospital to check what's up.
Junior Karani: Confess, repent and seek forgiveness. Make peace with whatever the response shall be, for secrets have a way of leaking out.
Lawey Lawrence: My dad warned me about a woman who leaves and comes back, then leaves again and comes back, way before I got married. I will always fight for a woman not to leave my house. But once she leaves, she's got only a 1% chance of ever coming back.
Evangelist David Musana: Is it the STI that is disturbing you or the fact that you cheated on your husband with another man. Where love abounds you cannot walk out of your matrimonial home just because you argued and had a disagreement with your spouse. There is something to it that meets the eye.
EXPERT'S ADVICE:
Dr Karatu Kiemo is a sociologist and lecturer at the University of Nairobi.
Hi,
To disclose an affair or not to is a real dilemma. Most cultures in Kenya do not allow open relationships where you can have an affair and let your partner know. Where such information leaks out, where the other partner tolerates it depends on their personality and other social and economic considerations. So if you confess, your relationship can remain or break. Sometimes cheating in a relationship has the element of guilt. It appears your personality can allow you to live with the secret especially if and when you recover from the sickness. If so, you can join the millions of humanity whose conscience is not affected by keeping secrets of extramarital affairs. I believe most of these live normally. In the meantime, the most important thing is not to infect your husband with the disease since there are records of your knowledge of your status, then infecting him carries criminal liability. Moving forward, the next time you decide to have an extramarital affair, consider using protective measures against disease and unwanted conception.