By David Odongo
For Geoffrey Omondi, 33, comedy is serious business. So serious a business he declined an offer to join university and opted for a career in comedy.
His work, which he has done for the past eleven years, is to make people laugh, and get paid for it, handsomely, he insists.
"Comedy pays my bills. I am comfortable. My family lacks nothing," says the father of two.Specialising in Luo comedy series titled Pengle, Omondi aka Wuon Otiato portrays a traditionalist who believes in wife inheritance among other traditional beliefs and has a skewed sense of discipline.
Wuon Otiato chases his wife when there is bound to be a bountiful harvest and only allows her back when the granary is nearly empty and tilling and planting seasons draw near. He is also mean and leaves his signature on the flour, so that nobody can make ugali while he is away.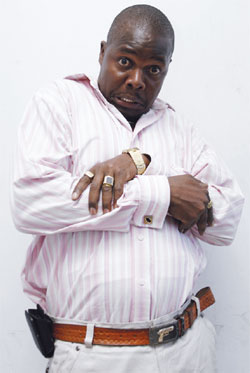 Geofrey Omondi aka Pengle is a born comedian and those who have watched his DVDs can confirm this.
Read More
"I came up with the character because in reality, that is what happens in the society. No matter how impeccable somebody is, an unflattering flaw is often hidden somewhere," he say.
Everybody has got some nasty traits that they hide from the public but is well known to their husbands or wives," says the comedian who has on several occasions toured Europe, exporting Kenyan comedy to the Diaspora.
Decked in gold jewellery, Omondi is quick to admit he loves flashy things.
Acting blood
"I always leave an impression. I am an actor. I have to be noticed to sell. Nobody would buy anything that is dull and has no glitter. I use the same principles when it comes to my movies."
Omondi has acting blood flowing through his veins. While at Barding High School, a young Omondi was always the best in drama.
"I was born to be an actor. After high school, I started commercial acting and believe me, it wasn't easy," says Omondi as he carefully brushes flecks off his red striped Gucci shirt.
Citing lack of support, Omondi says he had to work harder as everyone had dismissed his choice of career. His big break came six years later, in 2005 when he saw the opportunity and created Pengle Comedy on DVD.
"I opened a whole new sector in Luo Comedy. Everybody soon started copying what I was doing and you know, they say imitation is the greatest form of flattery," says Omondi as he polishes his gold cufflinks.
He has sold more than 20 thousand copies of his first DVD.
In 2006, he released another DVD, Fundi Mogo and Pengle Three and Othindi in 2007, Pikipikina in 2008, Jawanyo last year.
Two moths ago he released two DVDs, Facebook and Mibathi.
"I know it calls for a lot of creativity but yes, I have boundless creativity, so I can release as many DVD as I want, but I have to factor in the market reception, " adds the comedian who says he never misses the weekly performance by Mugiithi artiste Mike Murimi.
In 2008, Omondi briefly worked as a breakfast radio presenter with a local radio station; an experience he says is "humbling and overwhelming honour".
He also regularly hosts a comedy show in Radio Ramogi, Piny Modagi Ru.
Not satisfied with sticking to Luo comedy, Geoffrey seeks to spread his tentacles into the silver screen. He was among the first cast for the hilarious series produced by Kimaita Magiri, In True Colours. "Working alongside Kimaita was a wonderful experience. I learnt a lot from him as it was one of my first major television shows."
He later appeared in Richard Ekala comedy, Crazy Kenyans.
Wearing a serious face and arm folded across his chest, like he is guarding what he is about to say, Omondi explains why he stopped working with cartoonist Gado on XYZ. It's him who imitates Raila and Moi in the popular puppet political satire.
Unfulfilled promises
"We started off with promises of better salaries. Come season two, the promises were not fulfilled, come the third season, the promises still weren't fulfilled. I can tell a show that is a flop from a show that makes money, so feeling exploited, I walked away," he says.
"I don't regret leaving the show."
Currently on a countrywide tour, and performing at corporate functions, Omondi says he is working with Peter Kimemiah aka Kajairo to package a new comedy show.
"It will be aired on a local TV station soon," says the actor as he toys with his latest Blackberry.